Ten BNL Scientists Granted Tenure: Meet Ralph James and Ping Liu
January 27, 2012
Brookhaven Science Associates (BSA) granted tenure to 10 BNL scientists, effective December 1, 2011. The scientists are James Alessi, Collider-Accelerator Department; Hooman Davoudiasl, Physics Department; Jason Graetz, Sustainable Energy Technologies Department; Ralph James, Nonproliferation and National Security Department; Qiang Li, Condensed Matter Physics and Material Sciences Department; Chang-Jun Liu, Biology Department; Ping Liu, Chemistry Department; Allen Orville, Biology Department; Paul Sorensen, Physics Department; and Bo Yu, Instrumentation Division.
Tenure appointments are made after a rigorous selection procedure culminating in a comprehensive review of each tenure case by the Brookhaven Council, an elected body that advises the Director on matters of concern to the scientific staff. The BSA Science & Technology Steering Committee oversees the tenure process and makes final recommendations to the BSA board. The newly tenured scientists will be featured in alphabetical order, or as photographs or articles become available. The contributions of Ralph James and Ping Liu are summarized below.
Ralph James, Nonproliferation & National Security Department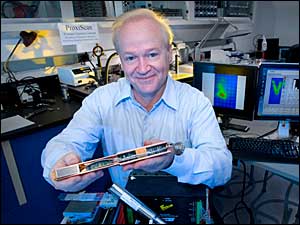 Ralph James
Senior Scientist Ralph James of the Nonproliferation & National Security Department (NNS) was awarded tenure for his many contributions to radiation detection and nuclear proliferation prevention. With 18 patents under his belt, he is an internationally recognized expert on radiation detectors and his research has enabled significant advances in the performance of wide band-gap semiconducting compounds that detect radioactive materials at room temperature.
"Ralph is an outstanding leader in the development of room-temperature radiation instrumentation for detecting and imaging x- and gamma ray radiation," said Carol Kessler, NNS chair. "He has also contributed substantively to x-ray detector physics and medical imaging as well as to nuclear nonproliferation and homeland security."
Among James' achievements was the discovery of the material properties limiting the performance of cadmium zinc telluride (CZT) radiation detectors and the means to resolve the shortcomings by corrections in the synthesis, crystal growth and fabrication methods. James and his team invented new processes for growth and purification of CZT crystals with fewer extended defects and developed a technique for post-growth thermal annealing to reduce the presence of such defects.
James earned his Ph.D. from California Institute of Technology in applied physics in 1980. He is a five-time winner of the prestigious R&D 100 Award, which recognizes the 100 most significant new technologies of the year. After winning in 1996, 1998, 1999, and 2001, he won the latest award in 2009 with BNL's Yonggang Cui, for developing a compact gamma camera for high-resolution imaging of prostate cancer.
James joined BNL in 2001 as the Associate Laboratory Director for Energy, Environment and National Security, then returned to full-time research in 2008. He now leads the Radiation Detection Research & Development Group and has secured BNL's prominent position in radiation detection.
Ping Liu, Chemistry Department
Ping Liu
Chemist Ping Liu was granted tenure for her strong contributions to catalysis science, achieved through her computational studies of mechanisms, energetics and kinetics of interfacial chemical reactions. Her research at BNL has focused on the catalysis of energy conversion processes, particularly in fuel synthesis and on electrocatalysis for efficient fuel use in fuel cells.
In fuel synthesis, Liu has become a leader in the development of improved metal-oxide catalysts that allow the water-gas shift reaction to occur at lower temperatures, which would help in improving mobile hydrogen supplies in a developing hydrogen economy. She has also delved into the synthesis of ethanol from small molecule precursors, an important problem in thermochemical routes to biofuels, identifying the reaction steps that limit selectivity and conversion efficiency, and predicting methods that would increase it. These varied projects figure in the Laboratory's major science initiative to reduce carbon emissions through the development of renewable fuels.
Liu has also applied computational methods to fuel cell electrocatalysis, providing important insights into catalyst function in areas such as the difficult oxygen reduction reaction, and the efficient electro-oxidation of ethanol and how catalyst function may be improved.
"Through outstanding collaboration with BNL experimental catalysis scientists, Ping has contributed strongly to the growing BNL reputation in catalysis science," said Alexander Harris, Chemistry Department chair. "Her productivity and visibility in the catalysis community show an upward trajectory, and she has also become an important contributor to the computational theory effort in the Center for Functional Nanomaterials."
Liu earned her B.Sc. in materials science and Ph.D. in condensed matter physics from Jilin University, China, in 1997 and 2000, respectively, and joined BNL in 2002.
2012-2817 | INT/EXT | Newsroom