MIT Externs Get an Internal View of Technology Commercialization
February 2, 2012
This Friday, Richard Wood and Sean Karson will begin to pack their bags and head back to the Massachusetts Institute of Technology (MIT) after completing their four-week marketing externships in Brookhaven National Laboratory's Office of Technology Commercialization and Partnerships (TCP). Apart from managing the Laboratory's intellectual property assets and supporting development projects between scientists and industrial or academic partners, the office focuses on the commercialization and deployment of Brookhaven inventions and discoveries.
Principal Licensing Specialist and MIT alumna Kimberley Elcess made the opportunities available to qualified students of her alma mater during their January Independent Activities Period. She explained that this particular externship helps students get an understanding of how science is translated into business. Two other MIT externs are participating in more traditional science projects.
"It's a good opportunity for hands-on scientists and engineers to explore alternative careers," said Elcess.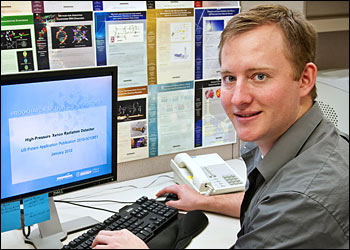 Richard Wood works on a pitch packet.
Wood, a junior, made the switch early, changing his focus from physics to comparative media studies with a minor in management.
"I'm still a physicist at heart," explained Wood, who was mentored by Elcess. "I love physics but I saw myself as being better suited in the business world."
Marketing science, he said, is like being a link between two worlds.
"You get to combine your technology knowledge with marketing so you're able to talk with the inventors, the people who actually do this really amazing stuff, but then you turn around and make it marketable and actually sell it," said Wood.
Wood's externship project entailed developing and producing six eight-minute multimedia presentations for technologies created by Brookhaven scientists, like the Multi-Modal Optical Nanoprobe, a sample holder device used in an unmodified transmission electron microscope to provide light access for near-simultaneous experiments. Starting with datasheets prepared by BNL staff, he learned about each technology and its possible role in the market from its inventors. He then created the packets, consisting of timed, narrated slideshows, which communicate the technology's value to its potential private-sector licensees.
"These pitch packets will allow [potential licensees] to see in a better light what these technologies are rather than just seeing the titles on the patents," Wood said. "They really get people interested in the technologies."
His pitch packets will be available on the BNL TCP webpage.
Technology Commercialization and Partnerships Manager Walter Copan said the externship provides a great opportunity for young people with a bent for science, giving them a valuable experience to add to their resumes and ranges of skills.
"The externs learn much more about the interface among science, business, and market communications," said Copan.
Through this learning experience, they have also contributed to BNL deployment initiatives by producing useful marketing materials.
"Their work can be used externally to support Brookhaven's commercialization of technology and opening the door to research collaborations," explained Copan.
The three-year-old MIT externship program at BNL is only one source of interns. Many come from other institutions, like Stony Brook University's business school.
Licensing Associate Poornima Upadhya is a graduate of Stony Brook's MBA program and a former TCP intern. She said the externship program is beneficial for Laboratory and the externs.
"In our office, they get to see the science and also see what applications these inventions might have, and what it takes to take a technology from discovery to the marketplace," explained Upadhya.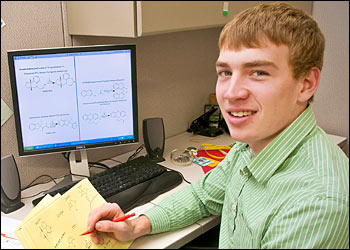 Sean Karson diagrams molecules.
Upadhya mentored Karson, a chemistry major. For his project, Karson marketed 11C-labeled formaldehyde, a precursor that may be used to create many new tracers for positron emission tomography (PET) scans. These labeled tracers could be extremely beneficial for both early detection and therapeutic intervention of various diseases.
Karson had to compose a technical brief that would be sent to companies interested in licensing the product. To complete the brief, Karson had to research market demand for the product and learn about the 11C-labeled formaldehyde's chemical properties and range of possible uses in labeling reactions.
Karson, who had never written a technical brief before, has already heard back from interested companies that will evaluate the BNL technology for possible commercial development.
"I'm planning on being a chemist, but I really liked having the chance to learn about the commercialization of technologies because, somewhere down the line, I'm going to have to most likely commercialize something or come up with something that I want patented," said Karson. "So it's really nice to have this background."
Karson recommends the externship to other students, and said that all science students would benefit from the experience, especially if they want to go into academia.
"The skill of getting a scientific technology to market is huge when you're a scientist because not only can you make money off of something, but you can actually take the research that you do and see that it has an impact," said Karson. "It's getting out to more people than just the people that read your research articles."
2012-2854 | INT/EXT | Newsroom