'A Really Good Hammer: Quantification of Mass Transfer Using Perfluorocarbon Tracers'
475th Brookhaven Lecture with Tom Watson
February 15, 2012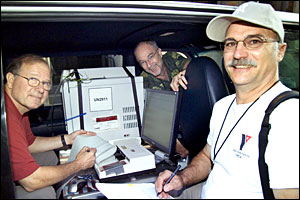 enlarge
Tom Watson (right), with colleagues Bob Wieser and Ernie Lewis, uses the PFT tracer analysis system in New York City.
Brookhaven Lab's perfluorocarbon tracer (PFT) technology can be viewed as a hammer looking for nails. But, according to Tom Watson, leader of the Lab's Tracer Technology Group in the Environmental Research and Technology Division (ERTD), "It's a really good hammer!"
The colorless, odorless and safe gases have a number of research uses, from modeling how airborne contaminants might move through urban canyons to help first responders plan their response to potential terrorist attacks and accidents to locating leaks in underground gas pipes. Their extremely low background level — detectable at one part per quadrillion — allows their transport to be easily tracked. Lab researchers used PFTs during the 2005 Urban Dispersion Program field studies in New York City, gathering data to help improve models of how a gas or chemical release might move around Manhattan's tall buildings and canyons. Closer to home, scientists also used PFTs to make ventilation measurements in Bldg. 400 on the Lab site to provide data to test air flow models used in determining the effects of passive and active air exchange on the levels of indoor and outdoor air pollution, and to determine the effects of an accidental or intentional release of hazardous substances in or around buildings.
To learn more about the usefulness and challenges of working with PFTs, join Watson as he gives the 475th Brookhaven Lecture, titled "A Really Good Hammer" on Wednesday, February 15. All are welcome at this free lecture, which is open to the public and will be held at 4 p.m. in Berkner Hall. Refreshments will be served before and after the event. Visitors to the Lab 16 and older must carry a photo ID. To accompany the lecturer to supper at a restaurant off site after the lecture, contact Linda Satalino.
In the lecture, Watson will explain why PFTs are unique tools for quantifying mass transfer in a number of important natural and engineered systems and identify the properties that a good tracer must have. In addition to describing mass transfer and why we study it, he will detail how this tool can be used in research into processes of atmospheric transport and dispersion, the study of building ventilation, and the detection of underground leaks in utility and hazardous waste storage systems. He will explore the future of tracers as a tool and present the plans for future research.
Watson earned a Ph.D. in chemistry from the University of Colorado at Boulder in 1990. Before coming to the Lab in 2005, he served as a program specialist, research chemist and as deputy division director at the National Oceanic and Atmospheric Administration in Washington D.C. and in Idaho Falls, Idaho.
The Lab's Environmental Research and Technology Division conducts basic and applied research on critical environmental issues including the effects of elevated carbon dioxide and other pollutants, fate and transport of contaminants in air, soil, and water, environmental restoration, and waste treatment. Within the department, the Tracer Technology Group applies PFT technology to scientific and technical questions, works to improve PFT methods and to develop new applications for this unique tool.
2012-2863 | INT/EXT | Newsroom