'No Short Climb,' A Video Presentation for Black History Month, 2/28
February 27, 2012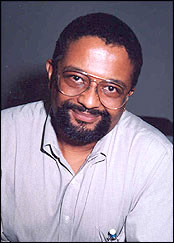 Robert Johnson, Jr.
At noon on Tuesday, February 28, all are welcome to Berkner Hall to see No Short Climb: Race Workers and World War II Defense Technology, a documentary that commemorates the contributions of African American scientists and technicians at Camp Evans, in Fort Monmouth, New Jersey, 1940-1959. Made by Robert Johnson, Jr., Professor and Chair of the Communication Arts Department at Framingham State College, MA, this video is the last of several events presented this February by the BERA African American Affinity Club in celebration of Black History Month.
During the period immediately following the Great Depression, young African American men and women who had graduated from high schools and colleges across the nation with degrees in the sciences were often unable to find work. However, as the U.S. geared up for the approaching war in Europe, efforts were made to recruit and place African Americans in the military and the civilian service corps, including at Camp Evans.
The resourcefulness, productivity, and technical accomplishments of the men and women of African American heritage at Camp Evans were commemorated by Johnson, who recorded a series of oral histories in the early 1990s to make this documentary. No Short Climb combines personal memoirs with archival footage, still photography, and graphics, presenting a first-hand account of this little known story.
Johnson has produced more than two dozen documentary profiles of scientists from the U.S., Canada, and England. These programs have aired on the U.S. Public Broadcasting System and cable television.
For more details on Camp Evans history, see http://www.campevans.org/_CE/html/rj-nosc.html.
2012-2906 | INT/EXT | Newsroom