BNL Employees Keep On Learning
July 3, 2012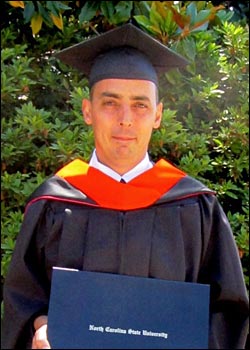 Karim Hamdi
Karim Hamdi always knew he wanted to go back to school.
"On my first day here, they said that BNL wants you to continue your education. That's all I wanted to hear," he said.
Hamdi, who is originally from Tunisia, began working at RHIC as a design engineer in 2009. A few months later, he started his graduate degree in mechanical and aeronautical engineering at North Carolina State University. 
He financed his degree through Brookhaven's Tuition Assistance Program, which is available to all regular employees who work at least 20 hours per week. For each semester, the Lab will reimburse part-time employees up to $2,000 and full-time employees up to $4,000.
Starr Munson of Human Resources & Occupational Medicine coordinates the program.
"Starr was very supportive, very helpful," Hamdi said. "It was very easy. Anything I asked for, they said yes."
Tuition assistance has been used by hundreds of Lab employees towards degrees in fire science, organizational management, accounting, nuclear engineering, and more. Some students prefer to attend local universities, while others like Hamdi choose a distance-learning course.
Munson says she often helps employees formulate an academic plan.
"I thoroughly enjoy working with my customers, and I'm always here if they need to come in for some guidance," she said.
The Lab also partners with Suffolk County Community College to offer an associate's degree class on site every semester. Provided that the minimum enrollment of 15 students is met, employees can take free courses in subjects like Marketing and Psychology.
For more information about the Lab's continuing education programs, visit the Human Resources website or contact Munson directly at munson@bnl.gov, ext. 7631.
2012-3187 | INT/EXT | Newsroom