Junior Firefighters Spend Day at BNL Firehouse
November 26, 2012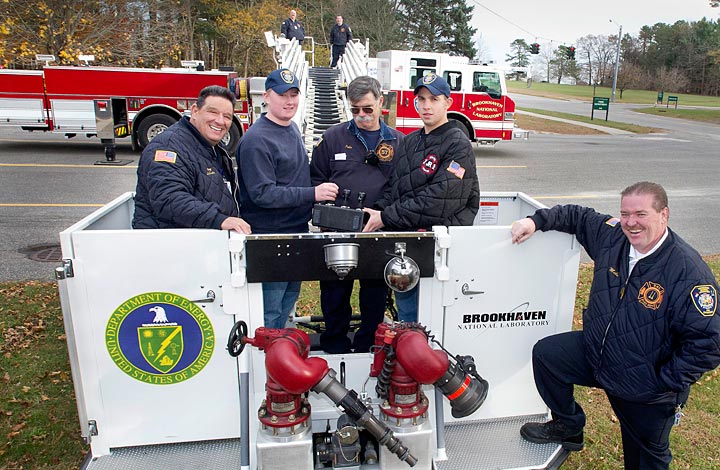 Sean Hendrickson and Andrew Schlosberg, students from McGann-Mercy High School, spent a day "on the job" with the BNL Fire-Rescue Crew. The students are volunteer junior firefighters in their hometowns of Center Moriches and Manorville. Shown in this photo are BNL Fire Chief Charles LaSalla (left) with Sean Hendrickson (second from left), Firefighter John Foley (third from left), Andrew Schlosberg (second from right) and Fire Captain Michael Hickey (right). Top: Firefighters Tim Devine (left) and Lee Brett.
Sean Hendrickson and Andrew Schlosberg may still be in high school, but they already know how important it is to volunteer. The two young men, who attend McGann-Mercy High School in Riverhead, are junior firefighters in their local hometowns.
Hendrickson resides in Manorville, and has been a junior firefighter in that district since the age of 12. Schlosberg lives in Center Moriches, and became a junior firefighter at nine. Both say they are following the example set forth by their dads who are volunteer firefighters.
Although junior firefighters do not fight real fires, they do need to be dedicated to their studies on topics such as firefighting techniques, emergency response methodology, and understanding the chain of command. By volunteering, they also experience the spirit of camaraderie.
But Hendrickson and Schlosberg decided they wanted to "kick it up a notch" and experience something new at a firehouse outside of their hometowns. The young men spoke to their school guidance counselor and as part of the school's "Teens on the Job" program, they asked for some "on the job" experience. The guidance counselor contacted BNL Fire Chief Charles LaSalla who made arrangements to have the two students spend the day at BNL, getting a close up view of how firefighting apparatus works and the importance of working safely as a team.
"I believe that mentoring and motivating our next generation of emergency responders is of great importance," said LaSalla. "After spending the day with these two young men, the BNL Fire-Rescue crew thinks they are already are on the right track toward successful careers as firefighters."
2012-3493 | INT/EXT | Newsroom