Brookhaven Lab Approved to Offer New Partnerships Mechanism
'Agreements for Commercializing Technology' (ACT) Now Available
February 7, 2013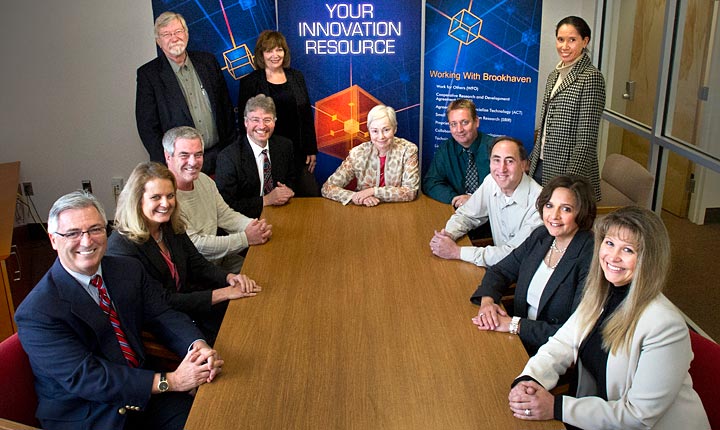 Lab and DOE staff who worked on the ACT project include, from bottom left (seated): Kevin Fox,Prime Contract Manager, Brookhaven Science Associates; Suzanne Davidson, BNL Chief Financial Officer; Michael Furey, Manager, Research Partnerships; Walter Copan, Managing Director, Office of Technology Commercialization and Partnerships; Anne Troutman, BNL General Counsel; John Meadows, DOE Brookhaven Site Office (BHSO); Robert Gordon, Contracting Officer, DOE BHSO, Barbara J. Carreras, BNL Budget Officer; and Jennifer Beliveau, DOE BHSO. Standing (from left): Gerald Stokes, Associate Laboratory Director, Global and Regional Solutions Directorate; Evelyn Landini, DOE BHSO; Dorene Price, BNL Chief Intellectual Property Counsel.
Brookhaven Science Associates (BSA) has received approval from the Department of Energy (DOE) to participate in a pilot initiative to make it easier for companies and other organizations to take advantage of Brookhaven National Laboratory's research capabilities. This initiative is intended to expand the deployment of America's unique advantages in innovation through the national laboratories to create jobs and accelerate the development of new clean energy and other state-of-the-art technologies.
Previously, companies wishing to partner with the DOE laboratories for commercial research had two primary options: entering a Cooperative Research and Development Agreement (CRADA) or a Work For Others (WFO) Agreement. There are eight DOE laboratories participating in this pilot program, which offers a third, more flexible option for establishing research agreements: "Agreements for Commercializing Technology" (ACT).
"The Agreements for Commercializing Technology will cut red tape for businesses and startups interested in working with our nation's crown jewels of innovation, the national laboratories," said Energy Secretary Steven Chu when the program was introduced in 2012. "This initiative will also strengthen new domestic industries by helping to bring innovative, job-creating technologies to the market faster."
In June 2012, BSA successfully completed an independent ACT readiness review, resulting in the BSA Board's approval and authorization to move forward with dedicated funding and a contract modification to allow the program to proceed. BSA is implementing ACT in close coordination with the other seven DOE pilot laboratories by sharing implementation approaches, lessons learned, and best practices.
In October 2012, DOE conducted a readiness review of BSA against the program's requirements. The eight-person readiness team reviewed documentation and interviewed BSA staff to ensure all requirements were identified within BSA policies, procedures, flow charts, and/or financial systems. The readiness team found that BSA met the majority of the requirements set forth and identified some remaining action items to complete before the Department of Energy's Brookhaven Site Office (BHSO) would approve the implementation of the ACT pilot at BNL. Those conditions have been met, and BHSO has now approved BNL's participation in the program.
ACT was created to address concerns that have been raised by industry and to remove barriers that sometimes got in the way of negotiating agreements, including sponsored R&D, collaborations and consortia for research with the national labs under a CRADA or WFO agreement.
"Brookhaven was pleased to play a strong role in the development of the ACT mechanism and now, as a pilot lab, we look forward to putting it into action," said Brookhaven Lab Interim Director Doon Gibbs. "Department of Energy laboratories have a long tradition of working with businesses and academia on scientific research and technology development efforts that have generated many advances, spawned new businesses and supported the creation of new industries and jobs."
ACT complements the goals of the Administration's "Startup America" initiative and is a key part of DOE's response to the President's Memorandum of October 28, 2011 on "Accelerating Technology Transfer and Commercialization of Federal Research in Support of High-Growth Business." ACT provides yet another tool as part of DOE's broader efforts to support economic growth and vitality of U.S. industry, and particularly startups and small businesses.
2013-3675 | INT/EXT | Newsroom