Lab Researchers Honored on SBU's Faculty Honor Wall
October 24, 2013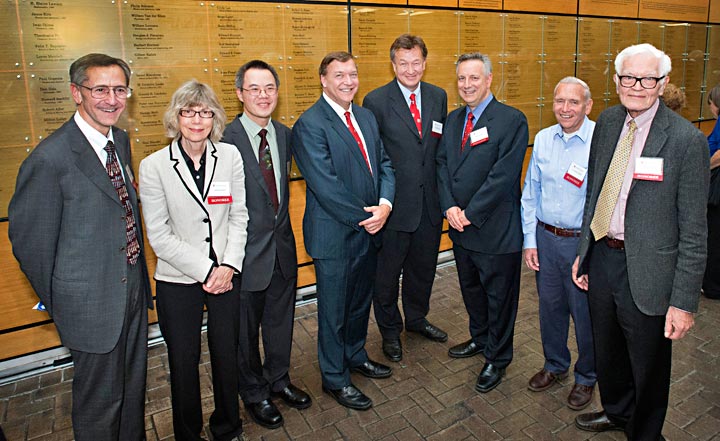 enlarge
Gathered in front of the Faculty Honor Wall are, from left, Kenneth Kaushansky, SBU Senior Vice President for Health Sciences and Dean, School of Medicine; Joanna Fowler, BNL; Stan Wong, BNL; Samuel L. Stanley, SBU President; Dmitri Kharzeev, BNL; Dennis Assanis, SBU Provost and Senior Vice President for Academic Affairs & Vice President of Brookhaven Affairs; William Studier, BNL; and James Glimm, BNL.
Honorees and guests gathered as Stony Brook University (SBU) President Samuel L. Stanley dedicated the updated Faculty Honor Wall during a ceremony held recently in the foyer of the Frank Melville Jr. Memorial Library at SBU. "The Wall" acknowledges the academic and scientific contributions of distinguished Stony Brook faculty.
Among the honorees are 10 Brookhaven Lab researchers who are current or former SBU faculty members:
Ilan Ben-Zvi
Joanna Fowler
Doon Gibbs
James Glimm
Maurice Goldhaber
Dmitri Kharzeev
William Studier
Esther Takeuchi
Stan Wong
C.N. Yang
"I hope this will serve as an inspiration to all of us and remind everyone of what a special and distinguished place Stony Brook University is," said Stanley.
For a full listing of honorees by category go to: http://www.stonybrook.edu/research/vpr/faculty-wall.shtml#SUNYDistinguishedProfessors-tab
2013-4365 | INT/EXT | Newsroom