Brookhaven Lab Funded to Study Energy-Efficient Heating Strategies
December 17, 2013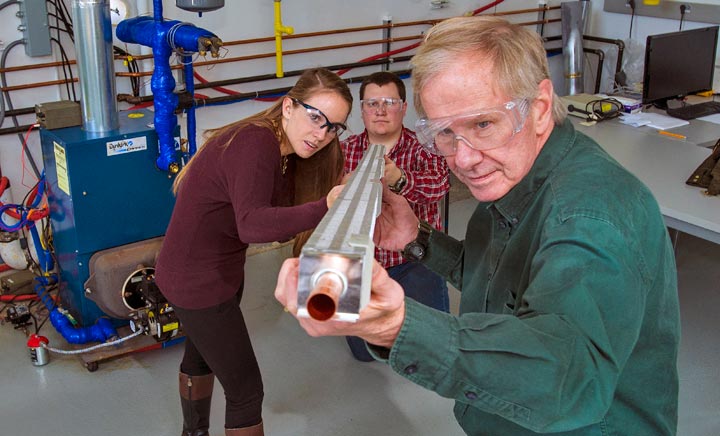 enlarge
Tom Butcher, right, and team members Rebecca Trojanowski and Chris Brown examine a length of the fin-tube heat exchanger the team will study.
Brookhaven National Laboratory has received $160,000 from New York State to conduct research into strategies to increase the efficiency of widely used heating technologies. One project will explore the feasibility of applying a forced-flow air supply for common baseboard radiators. Additional funding is targeted for the development of a low-cost, corrosion-resistant heat exchanger for a high-efficiency steam boiler.
The projects were among those selected by the New York State Energy Research and Development Authority (NYSERDA) to develop advanced technologies for more energy-efficient buildings. The goal of the $4.8 million awarded during this second round of funding is to encourage new ways for buildings to save energy, while also helping to expand the building sector economy. NYSERDA will provide $25 million over the next three years under its Advanced Buildings Program.
Tom Butcher will lead a team from his Energy Conversion Group in Brookhaven Lab's Sustainable Energy Technologies Department and will collaborate with Stony Brook University and several private companies.
"In the interest of getting to higher efficiency levels in heating systems, water temperatures are getting colder, making boilers more efficient in the steady state and also reducing their idle losses," Butcher said.
In the past, he explained, heating systems were designed based on 180 degree water temperature. To increase efficiency, that's being reduced to as low as 120 degrees depending on weather conditions. The common, inexpensive baseboard radiator is widely used across the United States, but has a problem being compatible with this practice because their energy output falls off very strongly as the water temperature decreases.
"The flow through baseboard heaters is driven by the temperature of the air that's in the radiator so its space-heating output decreases as the water temperature gets cooler," Butcher said. "This creates several problems. It limits how much we can take advantage of the energy efficiency gain using cooler water, and it raises the question of whether there's any future for the baseboard radiator in our heating systems."
Butcher's team aims to improve the low temperature performance of baseboard radiators by supplementing the buoyancy-driven flow with a forced convection flow.
"Our idea is an eductor approach, putting in a small but high velocity flow below the radiators which will induce a much larger flow through the radiator through momentum transfer," he said. The proof-of-concept project involves heat transfer and flow modeling.
Partners on the one-year project include Jon Longtin from the Mechanical Engineering Department at Stony Brook University, and Slant/Fin, a Long Island company and the largest manufacturer of baseboard radiators in the country.
"Slant/Fin is really interested in helping define the next generation of equipment of this type," Butcher said. "Our goal is to do the basic modeling to see if we can do it, and to see what the impact can be on the low temperature output. Once we get past the proof-of- concept, this would lead to a more significant development project and ultimately collaboration or support for commercialization by Slant/Fin and others."
Butcher said that NYSERDA is increasingly adopting the project model where a proof-of-concept leads to later commercialization and demonstration.
"We like this approach because it gives us the ability to look at more projects that are exploratory and then pick the ones that look good to go forward to higher levels," Butcher said. "We're really thrilled to have a chance to work with Slant/Fin, which is a really good partner, and SBU as well. I think it will be a great partnership and collaborative opportunity."
In another heating systems project, Brookhaven Lab collaborators Fulton Heating Solutions of Pulaski NY received $100,000 to develop a low-cost, corrosion-resistant heat exchanger for a high-efficiency steam boiler using thermally conducted polymers.
"As these systems get higher in efficiency, they reduce the exhaust gas temperature and the condensate that's formed is corrosive because of the acids associated with the combustion process," Butcher said. "That leads to the use of more expensive alloys for those heat exchanger materials. We'd like to eliminate or reduce that high cost through the use of polymer heat exchangers. Polymers for heat exchangers traditionally have low thermal conductivity. To overcome that, we're interested in the use of filler materials, including nanomaterials, to increase the conductivity of the polymers."
Butcher's team has completed a preliminary project on the concept and the collaboration with Fulton will take the work to the next level by building such a heat exchanger specifically for a steam boiler.
"Achieving high efficiency is particularly difficult with steam because the temperatures are so much higher," Butcher said. "We plan to pre-heat the incoming combustion air by transferring heat from the exhaust gas to the incoming combustion air. It's really never been done before. Our work again is going to involve a lot of heat transfer analysis of different geometries to try to get the performance we need, exploration of another set of both base polymers and filler materials, and then an injection molding process for the construction of the heat exchanger.
"Again, the project is in the exploratory category," he said. If it succeeds, we will likely go to the next stage, which would be a larger-scale development effort. We're very interested in this idea of thermally conductive polymer heat exchangers, not only for boilers but for other building applications such as air conditioning. We think it has a lot of potential."
2013-4484 | INT/EXT | Newsroom