Meet Nick Weih
December 10, 2007
Nick Weih's painting career began almost 15 years ago while searching with his wife for artwork to transform the newly married couple's house into a home. Shocked by the thousand-dollar price tags in galleries, Weih (pronounced "why"), a draftsman for Brookhaven's Collider-Accelerator Department, jokingly told his wife, "Gee, for that kind of money, I'll learn to paint." That Valentine's Day, she took Weih up on the proclamation and bought him a painting kit - followed by a painting lesson, when his first attempts on canvas didn't turn out as planned.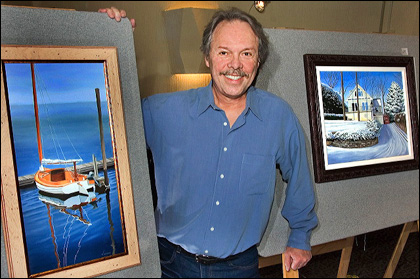 Nich Weih
"Just one lesson opened my eyes," said Weih, who studied technical art and graphic design in college. "It showed me what I might be capable of." Six lessons and one three-week teaching workshop later, Weih began leading his own classes on the weekends. But after nine years of painting the same instructional demos for his students, Weih was bored.
"I started to back out of classes and instead, began painting on my own," Weih said. "I found that I started painting totally differently. The style I use now is completely my own."
Using oil paints, Weih is known for portraying realistic landscapes and seascapes - almost all of them based on Long Island, with occasional scenes from upstate New York, Pennsylvania, and tropical destinations. When a particular scene strikes him, Weih takes photos and paints it later.
"Everyone says if you take a picture, you've got the truth," Weih said. "However, lighting can get lost in the camera. So the most important part is remembering that spark that made me take the picture in the first place."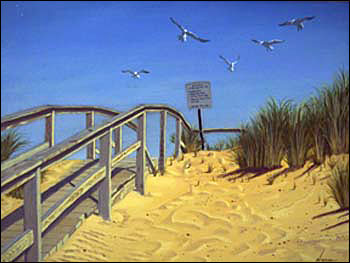 Weih's "Walkway to the Beach"
Weih paints in layers, taking at least several 3 to 4-hour blocks and numerous touch-up sessions to complete each piece. A perfectionist, he lives by Swiss painter Paul Klee's words that "An artist never really finishes his work; he merely abandons it." Since that definitive Valentine's Day years ago, Weih has created an estimated 600 pieces. His favorite painting, which hangs in his bedroom, is an image of a Stony Brook island at sunset. It's not for sale.
A familiar entry in the annual BNL Art and Crafts Show, Weih's work also has appeared in nine Long Island art galleries and numerous outdoor shows.
"It seems like everyone wants to do abstract art or make political statements, but I like to see the real world," Weih said. "We live in a beautiful place on Long Island, surrounded by water, beaches, boats, and filled with different seasons. I want to put it on canvas to share with everyone else. I like to take the ordinary and make it extraordinary."
To check out some of Weih's work, go to http://www.aviewoncanvas.com/.
Think you or one of your colleagues has a good story to tell? Email us! Although we can't write about everyone, we would love to hear your ideas and suggestions.
2007-455 | INT/EXT | Newsroom