494th Brookhaven Lecture on Wednesday, 4/16
'Manipulating Light to Understand and Improve Solar Cells'
April 11, 2014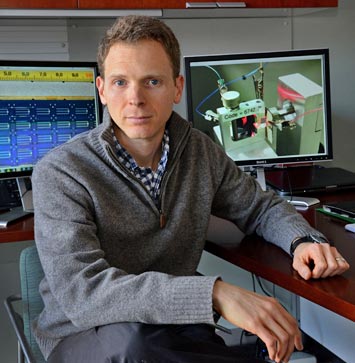 enlarge
Matthew Eisaman
Energy consumption around the world is projected to approximately triple by the end of the century, according to the 2005 Report from the U.S. Department of Energy's Basic Energy Sciences Workshop on Solar Energy Utilization. Much will change in those next 86 years, but for all the power the world needs—for everything from manufacturing and transportation to air conditioning and charging cell phone batteries—improved solar cells will be crucial to meet this future energy demand with renewable energy sources. At Brookhaven Lab, scientists are probing solar cells and exploring variations within the cells—variations that are so small they are measured in billionths of a meter—in order to make increasingly efficient solar cells and ultimately help reduce the overall costs of deploying solar power plants.
Join Matthew Eisaman of the Sustainable Energy Technologies Department for the 494th Brookhaven Lecture, titled "Manipulating Light to Understand and Improve Solar Cells," in Berkner Hall at 4 p.m. on Wednesday, April 16. All are invited to attend this free talk, which is open to the public. Refreshments will be offered before and after the lecture. Visitors to the Lab 16 and older must carry a photo ID while on site. Add to calendar
To join Eisaman for dinner at a restaurant off site after the talk, contact Lori Happich (Ext. 7252).
During his lecture the week before Earth Day on April 22, Eisaman will explain solar cells' important role in meeting the world's energy demands as well as the U.S. Department of Energy's SunShot Initiative to reduce the cost of solar cell-generated electricity by 2020. He will then discuss how he and collaborators at Brookhaven Lab are probing different material compositions within solar cells, measuring how efficiently they collect electrical charge, helping to develop a new class of solar cells, and improving solar-cell manufacturing processes.
About the Speaker
Eisaman earned a Ph.D. in experimental quantum optics and atomic physics at Harvard University in 2006. He was a National Research Council postdoc at the National Institute of Standards and Technology until 2008, and an applied physicist at the Palo Alto Research Center—a Xerox company—from 2008 to 2011. In July 2011, he joined Brookhaven Lab as an associate physicist in the Lab's Sustainable Energy Technologies Department. His research at Brookhaven addresses challenges with solar cell materials, devices, and manufacturing. Eisaman is also an adjunct research professor at Stony Brook University in the Physics and Electrical & Computer Engineering Departments.
2014-4749 | INT/EXT | Newsroom