Terrence Buck Honored as "Diversity Champion" for Work with STEM Students
June 25, 2014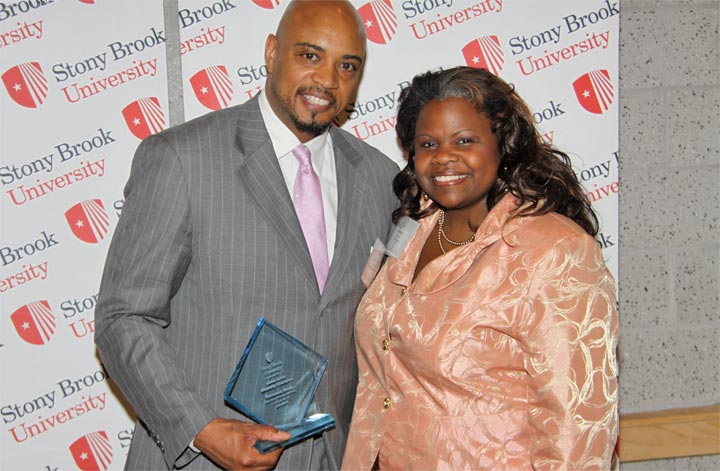 enlarge
Terrence Buck receives the 2013/2014 Diversity Champion Award from Kimberly Joy Dixon, assistant director of Employer Relations & Diversity in the Career Center at Stony Brook University.
Brookhaven National Laboratory's (BNL) Terrence Buck was chosen to receive the 2013/2014 Diversity Champion Award from the Career Center at Stony Brook University (SBU). Buck wears several hats on behalf of the Lab—Principal Human Resources Representative in the Human Resources Division, Diversity Specialist in the Diversity Office, and Program Manager for the Alliance for Graduate Education and the Professoriate-Transformation (AGEP-T) in the Office of Educational Programs. Buck was honored for his work connecting traditionally underrepresented Stony Brook University students with mentors who might lead them to job prospects at BNL.
The Diversity Champion Award is given every two years to a single honoree, and Buck is the second person to receive it. He was honored at the Partnership Celebration, held to thank employers, faculty, staff, and student group leaders for their efforts on behalf of the Career Center.
Kimberly Joy Dixon, assistant director of Employer Relations & Diversity in the Career Center at SBU, said that Buck "truly deserves the Diversity Champion Award." Dixon went on to say, "I have worked with Terrence for many years now and the one thing that stands out the most is that he cares deeply about assisting underserved students.
"He values the relationship between Stony Brook University and BNL and works hard to use our university as a pipeline for engineering and information technology, and to finance summer internships each year," she said. "In addition, he has participated in the Diversity Professional Leadership Network program (DPLN) through the Stony Brook University Career Center for three years as a Professional Buddy/Mentor and as a recruiting liaison between the DPLN students and BNL Engineering Professional Buddies. Terrence is a pleasure to work with and I look forward to our future collaborations."
Shirley Kendall, director of Brookhaven Lab's Diversity Office, also views him as an effective advocate on behalf of Science Technology Engineering & Math (STEM) students.
"The art of maintaining effective long-term relationships is a skill that requires commitment and strong interpersonal abilities," she said. "Terry effortlessly embodies both of these qualities, whether dealing with students, faculty or professionals. In particular, he seeks out students to mentor, and several of our new employees have been coached by Terry to join the Lab."
Kendall added, "He invites students to his home and remains connected with them long after they complete their undergraduate and graduate degrees. Terry epitomizes a 'friend-for-life,' and as an ambassador for STEM recruitment he enjoys every minute of his interactions with students, faculty, and other professionals."
Buck grew up in Southampton and attended Southampton High School, then spent two years at Farmingdale State College before transferring to SUNY Utica, where he graduated with a bachelor's degree in business and public management. Shortly thereafter, he started working at Brookhaven as a professional associate, a term position, in the Procurement Office. After eight months, he became a regular employee. After 10 years in Procurement, he joined the staff of Human Resources in 2000. In 2003, he went back to school and earned master's degrees in human resources and business administration and an executive MBA from St. Joseph's College in Patchogue.
Although he said the award was a surprise, Buck confirms that he has done a great deal of work with SBU, and that the Lab recently hired one of the students he mentored as a postdoc.
"In the Diversity Professional Leadership Networking program, we take students from SBU who are underrepresented and find them mentors," he said. "I'll take STEM students to the Lab and try to find them positions where they're working with scientists or engineers who they can talk to about work, about school, about projects, about what they can do when they get out of school, and ask the questions that students don't always get the chance to ask their professors. I've also been involved with recruiting SBU students for my student assistant program."
Buck also works extensively with the National Consortium for Graduate Degrees for Minorities in Engineering and Science (GEM). Brookhaven Lab now has several GEM fellows from SBU.
"The work I do with underrepresented students has really paid off for both us and SBU," Buck said. "It's a nice relationship because BNL and SBU are so close in other ways, we have to start attracting more SBU students for positions here. I'm really concentrating my efforts to make sure we work locally with the talent we have in our own backyard."
What are his future plans? "I want to continue my work bringing in the best and the brightest in science and engineering and I also want to continue working with the Diversity Office to really make an imprint on the Laboratory," he said. "Right now at the Laboratory, we have a fair number of employees retiring and I want to ensure that when we attract new talent, we also appreciate the diversity aspect of talent. It's important to me because someone gave me the opportunity and it's my desire to do the same for others."
Buck gives credit for his success to several Brookhaven staff members in particular: Nancy Sobrito, Shirley Kendall and Noel Blackburn.
"If it wasn't for these mentors, I couldn't do this job with the level of enthusiasm that I have," he said. "They listen to my ideas and suggestions and support me when the opportunity comes around to explore new business relationships in order to recruit and do what I can for the Lab. They deserve the credit too."
2014-4885 | INT/EXT | Newsroom