500th Brookhaven Lecture on Wednesday, 12/17: 'Small Science, Big Impact: Basic Research with Bacteriophage T7'
December 12, 2014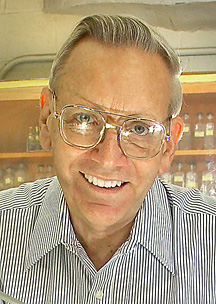 Bill Studier
Some of the biggest science in the world happens at the U.S. Department of Energy's Brookhaven Lab. The 5,300-acre facility is home to a 2.4-mile-round collider where scientists smash particles at near light speeds to determine more about why the Universe works the way it does. The Lab is also commissioning a synchrotron light source with a footprint about the size of Yankee Stadium to power scientific discoveries that will enhance national security and drive abundant, safe, and clean energy technologies. But not all science at Brookhaven Lab requires enormous machines and large teams of researchers.
Through basic research with a virus called bacteriophage T7, which infects E. coli bacteria, Bill Studier and just a few colleagues working in classroom-sized labs learned enough about how T7 works to develop the T7 expression system, a tool that can direct E. coli cells to produce useful amounts of almost any protein. Living organisms require thousands of different proteins, and scientists around the world use the T7 system to obtain individual proteins for analyzing how they work. Since it was patented in 1984, more than 1,000 companies have licensed the T7 system to produce proteins for commercial purposes, including medical diagnostics and treatments.
Join Studier of the Biological, Environmental & Climate Sciences Department for the 500th Brookhaven Lecture, titled "Small Science, Big Impact: Basic Research with Bacteriophage T7," in Berkner Hall at 4 p.m. Wednesday, Dec. 17. All are invited to attend this free talk, which is open to the public. Refreshments will be offered before and after the lecture. Visitors to the Lab 16 and older must carry a photo ID while on site. Add to calendar
During his talk, Studier will discuss how basic research on a simple virus enabled development of the T7 expression system and another high-impact research tool as well.
About the Speaker
Studier celebrated his fiftieth anniversary at Brookhaven Lab on Dec. 1. After earning degrees in biophysics—a bachelor's at Yale in 1958 and a Ph.D. at California Institute of Technology in 1963—and a postdoctoral fellowship at Stanford Medical School, he joined the Lab in 1964. Rising through the ranks, he took on the role of chair of the Lab's Biology Department in 1990 before returning to fulltime research in 1999. He was elected to the American Academy of Arts and Sciences in 1990 and the National Academy of Sciences in 1992. He won the Department of Energy's Ernest Orlando Lawrence Memorial Award in 1977 and an R&D 100 Award from R&D Magazine in 2004. His published research has been cited more than 32,000 times.
2014-5400 | INT/EXT | Newsroom