Kevin Hester: Printer, Personal Trainer, Producer
February 11, 2008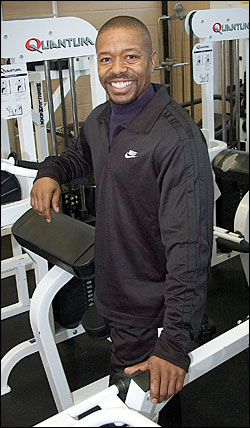 Kevin Hester, a Senior Photography and Graphic Arts Specialist who has handled the printing of most of BNL's publications for 24 years, is already planning for second and third careers after his retirement. He has recently become a certified fitness trainer and nutritional specialist after successfully completing an online course given by the U.S. Career Institute. He hopes to soon also be certified by the National Board of Fitness Examiners.
"I have always been active - played basketball and lifted weights, but I didn't stick with it as a steady routine," Hester said. "But about ten years ago, when my daughter Katrina was in high school, I wanted to motivate her to become physically active. I decided to stick with a weight-lifting regimen to set a good example, and I got Katrina interested in lifting weights. She eventually became a member of the track team at Longwood High School and the champion at the school in shot-putting."
Hester said Katrina still remains physically active, even after she had given birth to her first child this year, a daughter - Hester's third grandchild. (Two others are his son's children.) Hester has also stuck with his fitness regimen by going to the BNL gym three days per week, an hour at a time, for a workout with weights.
Hester develops a fitness and nutritional program for his clients after an initial comprehensive interview, which includes discussing the client's fitness goals, eating habits, and exercise preferences. Then he supervises their fitness regimen either at their homes or in their gym.
"Each individual is different, and I develop a diet and fitness program that is tailored to their needs," Hester said. "Being fit is a lifestyle, something that you have to stick with consistently, so it's best to find a type of exercise that you like to do. If you stay with a fitness and good nutrition regimen for three months, you will definitely notice a change in your body and in your health. At that point, most clients are motivated enough to continue their fitness program on their own."
While Hester is busy after work hours with his own and his clients' physical fitness regimes, he hopes to have more time to pursue an interest in entertainment production after he retires. In 2003, he earned an associate's degree in advertising and marketing from Briarcliffe College. Since then, he has produced and managed a talent show at the Middle Island Country Club. He found local talent and marketed the show himself, which was a success. "I have started my own company, called Resumé Entertainment Production," he said. "I found out it takes a lot of work to put a show together, but it's exciting and something I'd still like to pursue in the future."
Think you or one of your colleagues has a good story to tell? Email us! Although we can't write about everyone, we would love to hear your ideas and suggestions.
2008-545 | INT/EXT | Newsroom