Meet Tiffany Minter, Diversity Office Employee and Playwright
January 9, 2008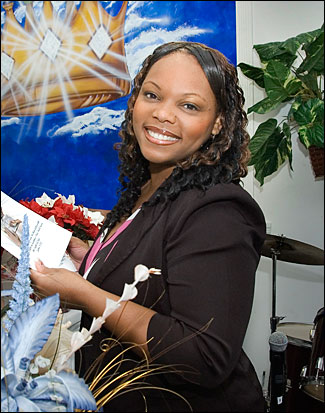 Tiffany Minter is a soft-spoken woman who has found that writing and acting in plays helps her to deliver meaningful messages.
Minter, who worked in the Records Management group until recently when she joined the staff in the Diversity Office, says that she hopes her plays deliver messages while helping people laugh at the tribulations of everyday life. "I try to write plays that are performed effortlessly because they are realistic and people can easily connect with the topic," she said. "I recently performed in a play that I titled, A Single Woman with No Patience. In that play, I staged a single woman looking for a companion and I acted out all the different options that may have come her way. It drew a lot of laughter because many of us can relate to what it's like to be single and searching for that special someone."
Where do Minter and her fellow actors perform? She is active in her church, the Abundant Joy Ministry located in Yaphank, and some plays have been staged there. The theater group has also performed in local high school auditoriums.
Minter credits her parents for her volunteer efforts and for her connection to the church. She and her family have been active in church activities for many years. Her father Joseph, a BNL employee in the Plant Engineering Division, is a minister, and her mother Louvania works in the Lab's Staff Services Division.
Recently, Minter started writing a special column for her church bulletin that includes letters written to God from the perspective of a child. She also organizes group youth activities. "I think it's so important to teach kids how to be good people," she said. "Organizing educational yet fun activities is just one way of getting our kids to talk and share their thoughts with us. It's been a rewarding experience for me."
What's next? Minter says she is in the process of writing another play. Although she hasn't come up with a title yet, the play will tell the story of a teenager struggling with two drug-addicted parents. Said Minter, "If one kid walks away with a positive message, then writing, organizing, and performing the play has been worth the effort."
Minter recently received her B.S. in Computer Information Systems from St. Joseph's College and is currently pursuing a Master's degree. Working full time and going to college keeps Minter busy, but she still finds the time to write and act. "I feel fortunate that I have been able to combine my spirituality with humor while delivering motivational messages. I am always willing to teach, to learn, and to laugh and I think that's the perfect combination for my job and my church volunteer activities," she said.
Think you or one of your colleagues has a good story to tell? Email us! Although we can't write about everyone, we would love to hear your ideas and suggestions.
2008-557 | INT/EXT | Newsroom