The Brookhaven Veterans Association invites the Lab community to a Memorial Day ceremony on Friday, May 22, at noon at the flagpole in front of the Brookhaven Center (Bldg. 30). Mike Bebon will be the guest speaker.
Memorial Day: Remembering Contributions by an Important U.S. Soldier
Do you know why Brookhaven Lab holds the address of Upton, NY?
May 22, 2015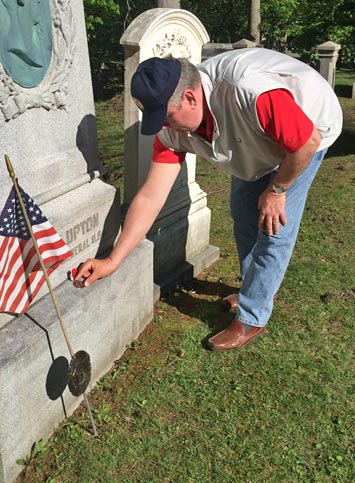 enlarge
At a recent visit to Fort Hill Cemetery in Auburn, NY, Brookhaven Veterans Association (BVA) Commander Donald Farnam placed a BVA challenge coin at the gravesite of Major General Emory Upton. The Brookhaven Lab site, formerly Camp Upton, was named to honor the Major General, a well-known military strategist.
Some of the bloodiest battles of the Civil War took place in Virginia in May of 1864. A highlight of one of these came on May 10, when Federal Brigade Commander Colonel Emory Upton deviated from usual military tactics and demonstrated the effectiveness of his newly designed tactics to break through enemy lines. These new tactics foreshadowed the trench warfare that would come into use in Europe during World War I.
Although for the past 100+ years Brevet Major General Upton has been remembered for his influential military policy, during his own lifetime he was best known for his contributions to military tactics. In 1867, Upton's tactics were officially adopted by the U.S. Army and printed in a book titled, "A New System of Infantry Tactics."
Upton had graduated from West Point Military Academy at the age of 16. He returned there in 1870 to 1875 to teach infantry, cavalry, and artillery tactics. He also served as Commandant of Cadets.
Upton was the first American to set in motion a century of U.S. military innovation and strategies that is still recognized to this day. And in 1917 during World War I, Upton's military contributions were memorialized when Camp Upton was opened as one of sixteen cantonments to be erected to train the New York area inductees. In 1920, Camp Upton was shut down and re-opened from 1940 to 1946 as a training center and then a convalescent hospital for wounded World War II veterans.
In 1947, the Camp Upton site was commissioned by the U. S. Government once again for the location of Brookhaven National Laboratory, where research would focus on "peaceful uses of atomic energy." The barracks were to now house equipment used by scientists and Brookhaven National Laboratory was born. Today, having earned seven Nobel Prizes, the Lab is a world-class scientific research institution conducting science in many areas, including, physical, biomedical, and environmental sciences, as well as in energy technologies and national security.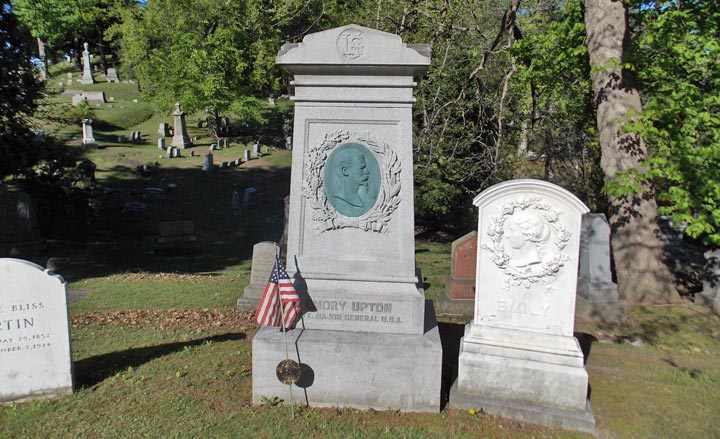 enlarge
The gravesite of Major General Emory Upton at Fort Hill Cemetery in Auburn, NY. Camp Upton, an inductee camp during World War I and training center and convalescent hospital for wounded veterans during World War II, was named in memory of Upton and became the site of Brookhaven National Laboratory in 1947.
Recognizing the importance of Emory's military contributions, Brookhaven Veterans Association Commander Donald Farnam of the Lab's Facilities and Operations Directorate recently visited Fort Hill Cemetery in Auburn, New York, where Upton is interred.
"Auburn is within driving distance from my daughter's college and I thought it would be appropriate to take the short detour from the college to pay my respects to a soldier who is an important piece of American and Camp Upton history," said Farnam. "Memorial Day is reserved for us to reflect on the contributions made by our military in past and current times. After all, their unselfish service to our nation holds the key to the freedoms we enjoy every day."
Information on Emory Upton derived from excerpts from www.army.mil and Military Magazine.
2015-5714 | INT/EXT | Newsroom