Meet John Skinner
May 5, 2008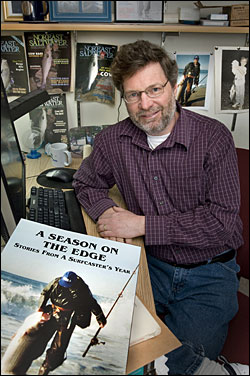 It's midnight, and you're almost just as likely to find John Skinner standing on a rock off the Long Island coast as you are to find him in bed. Fishing rod in hand, he braves all kinds of weather - often when the rest of the world is asleep - for that perfect catch. But Skinner, of BNL's Biology Department, doesn't do it for the fish alone.
"Otherwise, I'd buy a boat," he said.
Skinner is a surfcaster, which, simply put, involves fishing from the shore. He was brought up with the sport, making frequent excursions to Long Island's beaches with his father. Today, Skinner finds himself at various spots dotting Long Island's eastern end up to four times a week throughout the season, which extends from mid-April to early December. In addition, he speaks about surfcasting at outdoor shows, writes for regional fishing magazines, and has taught various surfcasting techniques in the Riverhead School District's adult education program. Most recently, he published a book on the subject.
"It's not as simple as throwing out your line and making a catch," Skinner said. "Many times, surfcasters are out there in conditions that are too rough for boats on the water. There's a challenge in overcoming the elements, and there's a certain science to it as well."
Skinner, who writes control software for crystallography experiments at the Lab's National Synchrotron Light Source, has become an expert in reading the signs that point to a good catch. Water temperature, tides, currents, and wind speed and direction associated with every one of Skinner's trips are recorded in his fishing log, which he uses to determine when and where the best fish will be during different parts of the year.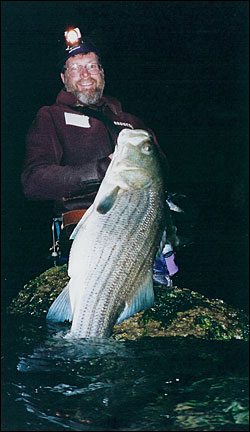 "It's not like you can just go to the shore at 8 p.m. every day because that's what's convenient," he said. "If you're looking at the tide window and 11 p.m. is good for fishing tonight, you'll probably want to fish an hour later tomorrow. It'll make you sleep-deprived sometimes, but it's much better than watching TV from your couch."
Skinner's log details, put together in seasonal progression, are the basis for his book, "A Season on the Edge: Stories from a Surfcaster's Year." It was published early this year.
"It's different than most 'how-to' books," Skinner said. "I wanted to integrate strategies and techniques, but in a story-telling mode. And I wanted to capture some of the essence and obsession of surfcasting. Based on the feedback, I got it right."
One of those surfcasting obsessions, Skinner says, is "going for that 50." That's "50" as in a 50-pound striped bass, or as Skinner refers to it, "the Holy Grail."
"Even if you're very good and can get 40-pounders with consistency, you have to be blessed to get that 50," he said. "There aren't very many of them, and certainly not many near the beach."
Skinner caught his "50" in 2001 - 52.78 pounds, to be exact.
"I can die happy after getting that one," he said.
Think you or one of your colleagues has a good story to tell? Email us! Although we can't write about everyone, we would love to hear your ideas and suggestions.
2008-642 | INT/EXT | Newsroom