ESOL Participants: Learning English, Understanding Customs, Enjoying the Cultural Diversity of the United States.
November 29, 2016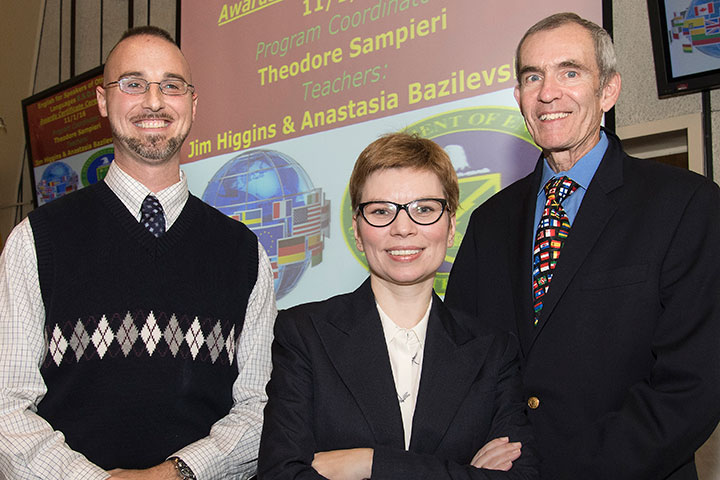 enlarge
ESOL Coordinator, Theodore Sampieri (left) with ESOL volunteer teachers Anastasia Bazilevskaya and Jim Higgins. ESOL has taught English language and American customs to hundreds of international students and scientists who have visited the Lab over the years.
Theodore Sampieri of the Staff Services Division, an assistant staff specialist and coordinator for the Lab's English for Speakers of Other Languages program (ESOL), has a big job to do: to help international employees and their family members gain a better understanding of the English language and comprehend the various components of the American culture.
"When I arrived at the Lab about four years ago, the ESOL program had only been in existence for several years," said Sampieri. "I wanted to expand the program by implementing innovative instructional methods that would help our visitors and their family members learn and understand the English language, and assist them in their adaptation to American society. But it doesn't stop there. We introduce the students to our customs, music, gestures, social interactions, legal systems, the fundamentals of the U.S. Constitution, and even our American holidays. I also help them with their professional development, computing skills, resume writing, and simulate job interviews."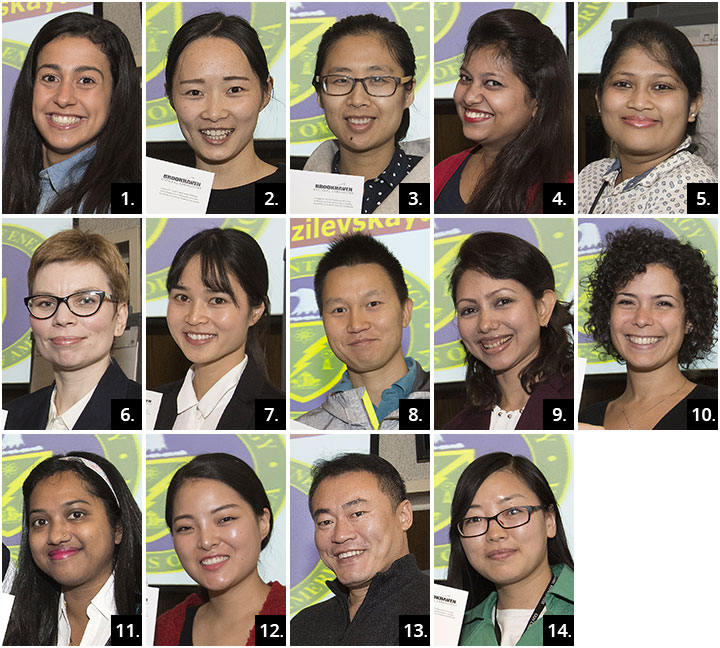 1. Andreza Rodrigues 2. Chengyan Yang 3. Ying He 4. Amba Chouhury 5. Arunima Patra 6. Anastasia Bazilevskaya 7. Jinghua Ouyang 8. Wei Lu 9. Afrin Ahmed 10. Veronica Fama 11. Mousumi Roy 12. Beibei Niu 13. Xueduo Xue 14. Weiwei Xia
Last month, Sampieri had the privilege of recognizing 14 ESOL graduates. "Even though they have 'graduated,' these students continue to come to classes and interact with the instructors and other participants," said Sampieri. "Some students stay only a few weeks, others stay a few years, but we become friends and continue to share our experiences."
The ESOL program has a dedicated classroom located in the Lab's recreation hall, equipped with visual and audio aids that help expedite and enhance the learning process. Sampieri teaches classes five days a week, but he receives some volunteer help from ESOL participant Anastasia Bazilevskaya, a teacher who hails from Russia and relocated to the United States with her family when her husband joined the Lab as a scientist.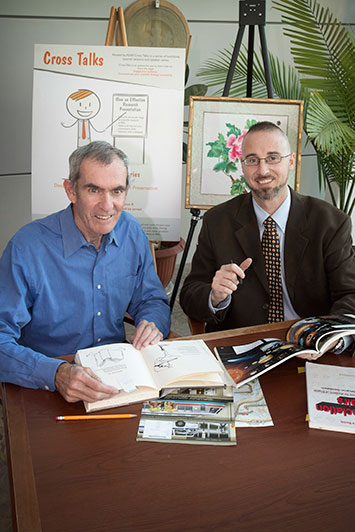 enlarge
Jim Higgins (left), an engineer in the Nuclear Science and Technology Department and an ESOL volunteer, meets routinely with Theodore Sampieri, coordinator of the Lab's ESOL program, to discuss teaching methods.
Jim Higgins also volunteers for the program. Higgins, an engineer in the Nuclear Science and Technology Department who works on nuclear safety projects, obtained his ESOL teaching certification through the Suffolk County Literacy Program. Higgins said he has traveled around the world and knows personally how difficult it can be to communicate or find your way in a foreign land. "I have been volunteering for ESOL for 13 years and have taught students from 27 different countries," said Higgins. "I enjoy every minute of the time I spend working with our international associates who come to the Lab either short or long term. In addition to the lessons, we discuss places to visit on Long Island, our families, our cultures, science, and current news. I often use music in class. I insert blanks in lyrics and then we listen to the song and they fill in the blanks. I believe that all of these discussions help them to understand the American culture."
"We have many success stories to tell," added Sampieri. "We currently have two ESOL participants employed locally, one who has received her driver's license, and another who obtained U.S. citizenship and voted in the recent Presidential election. The ESOL program has helped hundreds of international students and scientists who have visited Brookhaven over the years. Student after student, year after year, we see positive results. As a teacher, watching the students gain confidence and become successful is the best outcome I could ever hope for.
2016-6512 | INT/EXT | Newsroom