Remembering a Special Soldier
Old Wooden Box Holds Military Medals and Memories
November 7, 2016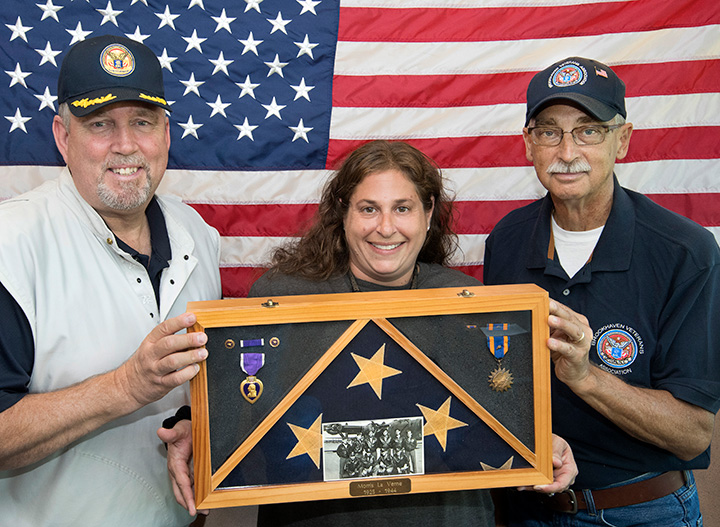 enlarge
Holding a shadow box containing a WWII American flag and military medals is Amy Contreras (Information Technology Division), with Don Farnam (left) and Lou Gerlach of the Brookhaven Veterans Association (BVA). Contreras came across the old shadow box belonging to her great uncle and asked the BVA for help rearranging the memorabilia.
Amy Contreras, who works in the Lab's Information Technology Division, says that for as long as she can remember, her dad, Marshal Stein, often spoke of his Uncle Morris. Although her father never met his uncle, he remembers hearing family stories about the special young man who was killed in action in 1944 at the peak of World War II while fighting for our country.
"Although my great Uncle Morris died at the young age of 19, my dad's family has vivid memories of him," said Contreras. "In particular, my grandmother has shared stories about him as a young boy and how he would always be a hero for going off to war to protect our freedom."
So, when Contreras and her dad came across an old wooden shadow box that held an unfolded American flag and military medals belonging to her great uncle, she knew that she needed to speak to a veteran about how to properly fold the flag and arrange the medals to give them the respect they deserve.
"I knew the Lab had a veterans group and thought it was a perfect place to get help on this project, so I contacted Don Farnam, the commander of the Brookhaven Veterans Association (BVA)," said Contreras.
"Once I saw the medals and the United States flag in the wooden box, I told Amy that I knew just who to call to help me fix up the box for her," said Farnam. "I immediately called my fellow BVA member Lou Gerlach. Lou retired from the U.S. Navy after 42 years of service and I knew he would understand the significance and importance of each medal and how to exhibit them appropriately."
Together, Gerlach and Farnam opened the box, unfolded the 48-star United States flag, rendered a proper salute, and proceeded to refold it so that the stars would align perfectly in the window of the shadow box. "I was excited when we unfolded the flag as I have never seen a flag in that condition that held that kind of history," said Farnam.
But the story doesn't end there. Upon removing the flag from the box, Gerlach found a letter from President Franklin D. Roosevelt, two additional medals for significant military events, a certificate for a Purple Heart medal —awarded by the President of the United States to those wounded or killed while serving — and an Air Medal denoted with an oak cluster (indicating the medal had been awarded at least twice), together with personal photos and letters from Uncle Morris to his sister.
"This was no ordinary soldier," said Gerlach. "This man was on the front lines fighting in the European theater. It appears that he was assigned to the 330th bombardment group with the United States Army Air Corps (now U.S. Air Force) on a mission over Holland. At the young age of 19, he gave the ultimate sacrifice fighting for our country."
Following advice from Gerlach, Contreras has been in touch with the U.S. Veterans Administration to gather additional information on her great uncle, as he is entitled to additional medals, including a Victory Medal, for fighting in the European theater.
"I am very grateful to the BVA for their help," said Contreras. "My family didn't know about the additional medals, letters, or photos that were found in the bottom of the box. When Lou and Don returned the box to me I couldn't believe how elegant it looked. At that moment my great Uncle Morris became more real to me. I understood the profound loss my family incurred all those years ago. The uncle I never met has a special place in our family history and our hearts forever."
2016-6710 | INT/EXT | Newsroom