Meet Dan Love - Software Developer
June 2, 2008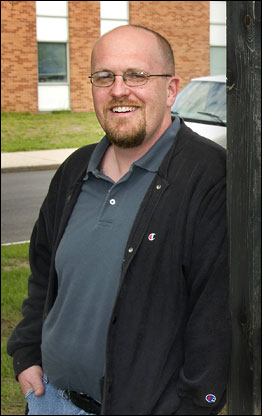 Dan Love
In the world of technology staying up to date with the latest developments can be difficult. For example, learning the the .NET Framework, Microsoft's latest software development platform that can be used to create both desktop and web applications, can be a daunting task.
Dan Love, a software developer in the Information Technology Division (ITD) is here to help.
Love, who came to the Lab in August 2007, spends much of his time developing software and web services that will make the applications and data offered by ITD easier to use. He also helps members of the Lab community get started working with the .NET Framework. He's even set up a mailing list where subscribers can post questions and get news. "Switching from other technologies may seem tough," he said. "But when users roll up their sleeves and start working with them they are amazed how simple and powerful the framework really is."
After obtaining a degree in zoology from Connecticut College, Love moved to California. In a twist of events, he landed a job with well-known film director Roger Corman best known for films like "Little Shop of Horrors." Said Love, "It was interesting, but the work was draining and after a while I decided it was time to move on." Love returned to his hometown on Long Island, got married, and began building web sites. He started coding Javascript and flash animations at various design firms and then moved on to usability and software design with Long Island based Ruby Digital.
When Love noticed the job opening in ITD, he quickly submitted his application. "I was already familiar with the Lab, he said. My dad has been a BNL researcher for many years. I saw the opportunity to work here and went for it. By far, it's been the best career decision I've ever made. I think the Lab is a fabulous place to work. I get to commute with my dad, and I'm thoroughly enjoying every minute of that too."
Think you or one of your colleagues has a good story to tell? Email us! Although we can't write about everyone, we would love to hear your ideas and suggestions.
2008-674 | INT/EXT | Newsroom