Meet Nora Detweiler
July 21, 2008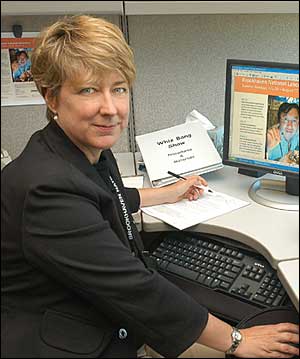 Nora Detweiler, formerly the Town of Islip's Deputy Commissioner of Parks, Recreation and Cultural Affairs, joined Brookhaven Lab's Community Relations Office in June 2008 — shortly before the start of Summer Sundays, one of the programs she is responsible for running. It's a challenging task, which involves organizing numerous events, tours of facilities, and science-related activities for both adults and children on five consecutive Sundays. This year the program started on July 20 and ends on August 17. Typically, about 6,000 visitors attend Summer Sundays annually.
Detweiler decided to become a Principal Community Relations Specialist at the Laboratory because the job is a "perfect fit." She said, "The requirements of the position fit perfectly with what I have done in the past — community relations and outreach, event management, recruiting volunteers and coordinating various programs."
She worked as executive director of Keep Islip Clean, a not-for-profit litter-prevention community organization, for seven years before becoming an Islip Town employee.
Think you or one of your colleagues has a good story to tell? Email us! Although we can't write about everyone, we would love to hear your ideas and suggestions.
2008-740 | INT/EXT | Newsroom