Meet Leonard Mausner
July 24, 2008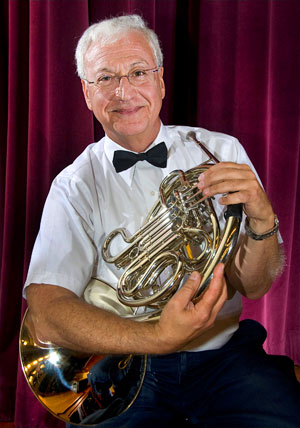 Leonard Mausner
All are quiet in anticipation as the conductor raises her baton. With the first of many orchestrated swoops of the wand, Long Island's Sound Symphony springs into a prelude and a wall of sound replaces the silence that had filled the room only seconds before. BNL's Leonard Mausner, a senior chemist who supervises the Brookhaven Linac Isotope Producer (BLIP) and Target Processing Lab, sits in a back row onstage helping to build that wall, a range of sound emanating from his French horn as it has since the early 1960s.
Mausner began playing the French horn nearly 48 years ago. "I started out playing the trumpet," he recalled. "One day, my junior high school band director realized that he had too many trumpet players and not enough horn players. I volunteered to switch and never looked back." Mausner took private lessons throughout junior high school, high school, and college and still practices regularly while playing with the symphony.
As a high school student, Mausner considered working toward a career in music but decided to focus on science instead. "I graduated from high school in the post-Sputnik era," he said. "It was exciting and prestigious to pursue a career in science." While he went on to earn a B.S. in chemistry at MIT, and Master's degree and Ph.D. in chemistry from Princeton, he continued to play the French horn in concert bands and symphony orchestras. During graduate school, he even joined the U.S. Army Reserves and played the French horn in marches, parades, and performances for soldiers and the public.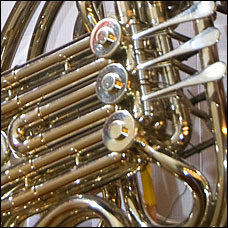 The Sound Symphony Orchestra's principal French horn player, Mausner joined the group around the time of its inception 25 years ago. The symphony, which consists of nearly 60 musicians including fellow BNLer and violinist Mona Rowe of CEGPA, rehearses weekly and performs approximately 10 times per year. "I wouldn't practice nearly as much if it was just to entertain myself," Mausner said. "I like the motivation of playing with a group and I prefer to have an audience. It helps me keep my skills up."
Playing with the symphony clearly has helped Mausner keep up his skills. In addition to weekly rehearsals with the symphony, Mausner practices playing his French horn five days a week. "If the symphony is performing a piece with a horn part that I find easy to play, I only practice about 20 minutes a day," Mausner noted, "If the symphony is working on a program with a difficult or complex horn part, I will practice two to three times as much and ramp up in the weeks before a performance."
At the Lab, Mausner spends most of his time managing BLIP, a facility that produces medical isotopes that are not commercially available but used and sold for research and nuclear medicine. Occasionally, he will spend his lunch hour playing duets with Bob Sweet of the Biology Department, who also plays the French horn. "Bob and I have fun playing together. We play for different groups but we like to practice together, building it into our regimen," Mausner said.
Mausner and the Sound Symphony are currently preparing for its annual SummerPops free concert series. The series kicks off at the Village Green in Westhampton on July 24. The symphony will also play at the Riverfront Parking Lot in Riverhead, Shoreham-Wading River High School, Mastic Beach Property Owner's Association Clubhouse, and the Village Green in Cutchogue before the series closes at Stony Brook's Village Green at Stony Brook on August 10. "The symphony is eager to perform our summer series," Mausner said. "The music is fun for us to play and fun for the audience to listen to. I want to invite the BNL community to attend a concert at whichever location is most convenient." For performance dates and times and to learn more about the Sound Symphony, visit the symphony's Web site.
Think you or one of your colleagues has a good story to tell? Email us! Although we can't write about everyone, we would love to hear your ideas and suggestions.
2008-786 | INT/EXT | Newsroom