The following news release on enrolling patients in a Phase II U.S. clinical trial to evaluate the safety and efficacy of CPP-109 - a pharmaceutical product containing the epilepsy drug vigabatrin, or GVG - as a treatment for cocaine addiction was issued today by Catalyst Pharmaceutical Partners (CPP). A large body of preclinical research conducted by Stephen Dewey, of the U.S. Department of Energy's Brookhaven National Laboratory, and Jonathan Brodie, a psychiatrist at the New York University School of Medicine, shows that vigabatrin/GVG holds promise as a treatment for addiction to a variety of abused drugs, including cocaine (see: http://www.bnl.gov/CTN/GVG/). CPP has licensed from Brookhaven National Laboratory the right to use vigabatrin to treat a wide variety of substance addictions.

Brookhaven National Laboratory contacts: Peter Genzer, (631) 344-3174, genzer@bnl.gov, or Karen McNulty Walsh, (631) 344-8350, kmcnulty@bnl.gov.

New York University School of Medicine contact: Pamela McDonnell, (212) 404-3595, Pamela.McDonnell@nyumc.org.

CPP Contact: Patrick J. McEnany, Chief Executive Officer, Catalyst Pharmaceutical Partners, 305-529-2522, pmcenany@catalystpharma.com
Catalyst Pharmaceutical Partners Begins Enrollment for its U.S. Phase II Clinical Trial of CPP-109 in Patients With Cocaine Addiction
Additional Clinical Trial Sites To Be Added — Fast Track Status With FDA
January 25, 2008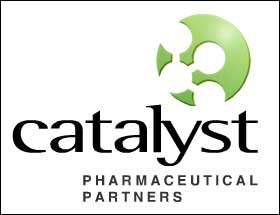 CORAL GABLES, FL - January 25, 2008 — Catalyst Pharmaceutical Partners, Inc. (Nasdaq: CPRX), a biopharmaceutical company that acquires, in-licenses, develops and commercializes prescription drugs for the treatment of drug addiction, today announced that it has initiated enrollment of patients for its 180- patient, U.S. Phase II clinical trial evaluating the use of CPP-109 in treating patients with cocaine addiction. CPP-109, an orally administered, small molecule drug which inhibits psychostimulant-induced dopamine release, is Catalyst's lead compound, vigabatrin.
The Phase II trial is designed as a randomized, double blind, placebo-controlled, intent-to-treat, multicenter study to evaluate the safety and efficacy of CPP-109 as a treatment for cocaine addiction. Under the study protocol, patients will be treated for a period of 12 weeks, with an additional 12 weeks of followup. The primary objective of the study is to demonstrate that a larger proportion of CPP-109-treated subjects than placebo-treated subjects are cocaine-free during their last two weeks of treatment (weeks 11 and 12). Additionally, Catalyst will be measuring a number of secondary endpoints based on reductions of cocaine use and craving.
Catalyst's web site www.catalystpharma.com includes a listing of the CPP-109 study sites and relevant contact information. For more information about enrolling in this study, please contact the study sites directly. Additional detailed information can be found on www.clinicaltrials.gov (search for Catalyst).
Patrick J. McEnany, Chief Executive Officer of Catalyst, commented: "We are very pleased to announce the start of active enrollment in our study of CPP-109 as a potential treatment for cocaine addiction. We expect to add more clinical trial sites to the 10 previously disclosed in order to complete the trial as soon as possible. We anticipate initial top-line results from this trial to be available by year-end."
Douglas Winship, Catalyst's Vice President of Regulatory Operations, stated: "Vigabatrin has previously shown the potential to be a safe and effective non addictive drug treatment for cocaine and methamphetamine addiction in a Phase II double-blind, placebo-controlled trial and two pilot studies conducted in Mexico. We are excited to now evaluate the therapeutic benefit of CPP-109 in cocaineaddicted patients enrolled in a large, double-blind, placebo controlled trial conducted in the U.S. under our sponsorship. There are currently no prescription drugs approved for the treatment of this population. As a result, drug therapies are desperately needed which can improve abstinence achievement rates of behavioral therapy administered by addiction treatment specialists, and reduce recidivism. We have worked diligently with regulatory authorities and the independent institutional review boards at each of the clinical sites where our trial will be conducted to be able to finalize and implement our protocol for this trial."
On December 7, 2007, Catalyst announced positive initial top-line results from a 103-patient, investigatorinitiated Phase II double-blind, placebo-controlled trial, in which vigabatrin met its primary efficacy endpoint of abstinence during the last weeks of treatment for cocaine addiction. Additional results of this study will be reported when they become available.
About CPP-109
CPP-109 works by inhibiting an enzyme that normally breaks down gamma aminobutyric acid (GABA), a dopamine-modulating neurotransmitter. The resulting excess GABA suppresses the increase in dopamine release caused by cocaine. All addictive drugs elevate dopamine levels in the parts of the brain associated with reward and reinforcement. It is thought that this reinforcing effect is the primary biochemical explanation for addiction. CPP-109 indirectly keeps dopamine levels in the normal range without impairing normal dopamine-based mechanisms. It is also thought that this effect may reduce craving, an effect in addicts which makes it very difficult for them to stop their drug habit.
About Catalyst Pharmaceutical Partners
Catalyst Pharmaceutical Partners, Inc. is a biopharmaceutical company focused on the development and commercialization of prescription drugs for the treatment of addiction. The Company has obtained from Brookhaven National Laboratory an exclusive worldwide license for nine patents and four patents pending in the United States relating to the right to use vigabatrin to treat a wide variety of substance addictions and obsessive-compulsive disorders. Catalyst has also been granted rights to Brookhaven's vigabatrin-related foreign patents or patents pending in more than 30 countries.
The Company's initial product candidate is CPP-109, also known as vigabatrin. CPP-109 has been granted "Fast Track" status by the FDA for the treatment of cocaine addiction. This indicates that the FDA has recognized that CPP-109 is intended for the treatment of a serious or life-threatening condition for which there is no effective treatment and which demonstrates the potential to address unmet medical needs. CPP-109 was selected as one of the five most promising drugs entering Phase II trials in the July- September 2007 issue of The Ones To Watch, published by Thomson Scientific, a Thomson Corporation publication.
This press release contains forward-looking statements. Forward-looking statements involve known and unknown risks and uncertainties which may cause the Company's actual results in future periods to differ materially from forecasted results. A number of factors, including the Company's ability to successfully complete the clinical trials required for it to file a new drug application for CPP-109, its ability to complete such trials on a timely basis within the budgets established for such trials, whether the Company's trials, which are being conducted in the U.S. under FDA good clinical practice guidelines, will evidence that CPP- 109 is safe and effective for the treatment of cocaine addiction and methamphetamine addiction, the Company's ability to protect its intellectual property and those other factors described in the Company's Annual Report on Form 10-K for 2006 and the Company's Quarterly Report on Form 10-Q for the quarter ended September 30, 2007 that the Company has previously filed with the U.S. Securities and Exchange Commission ("SEC"), could adversely affect the Company. Copies of the Company's filings with the SEC are available from the SEC or may be obtained upon request from the Company. The Company does not undertake any obligation to update the information contained herein, which speaks only as of this date.
2008-10737 | INT/EXT | Newsroom