Contact:
Peter Genzer
, (631) 344-3174 | Written by Diane Greenberg
Renate W. Chasman Scholarship for Women Awarded to Two Students
Joanna Laroussi, Hunter College, and Jamina Oomen-Hajagos, Stony Brook University
September 7, 2010
UPTON, NY — Joanna Laroussi, a graduate student in geography at the City University of New York's (CUNY) Hunter College, and Jamina Oomen-Hajagos, a graduate student studying genetics at Stony Brook University (SBU), have been awarded the 2010 Renate W. Chasman Scholarship for Women. Brookhaven Women in Science (BWIS), a not-for-profit organization at the U.S. Department of Energy's Brookhaven National Laboratory, offers the scholarship to qualified candidates annually to encourage women to pursue careers in science, engineering, or mathematics.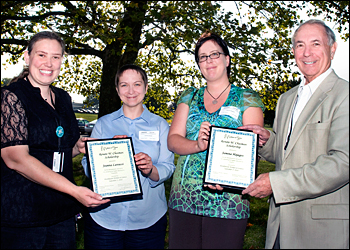 enlarge
Loralie Smart, Brookhaven Women in Science board member (left) and Martin Blume, Senior Scientist Emeritus and former Deputy Director at Brookhaven Lab, display Chasman Scholarship certificates with 2010 scholarship winners Joanna Laroussi (second from left) and Jamina Oomen-Hajagos.
"These two candidates were both exceptional students with excellent qualifications, so this year, we are granting two scholarships rather than the usual one," said Loralie Smart, a BWIS executive board member who coordinates the scholarship program.
Named after the late Renate Chasman, a renowned physicist who worked at Brookhaven Lab, the $2,000 scholarship is awarded each year to a re-entry woman — one whose college education was interrupted, but who has returned to pursue a degree on a half time or greater basis. For the first time, SBU is providing matching funds for students enrolled in its programs, so Oomen-Hajagos will be receiving an additional $2,000 to go toward her graduate studies.
Joanna Laroussi earned two B.A. degrees in geography: one from the University of Silesia in Poland in 2003, and another from CUNY Hunter College in 2010. Her goal in 2003 was to immediately continue her education to obtain an advanced degree, but her family moved to the U.S. in 2004, and, as an immigrant, she did not have the opportunity to go directly to college. She spent her first years in the U.S. working long hours as a child-care worker, learning English and saving funds for college.
Currently, Laroussi is working toward a master's degree in geography at CUNY Hunter College. She has also been accepted in a Ph.D. program at the Earth and Environmental Sciences Department at the CUNY Graduate Center, where she plans to continue her studies in 2011. In 2009, she started to work part time as an intern with the New York City Department of Education Office of Pupil Transportation, where she has the opportunity to build her professional geographic information system experience and apply the concepts she learned in the classroom to real-world projects.
"It is a great honor for me to receive the Chasman Scholarship," Laroussi said. "It will help me significantly in becoming a professional in the field of geographic information systems. After finishing my education, I wish to work for a government agency performing critical geospatial analyses and using maps to present findings."
Jamina Oomen-Hajagos earned a B.S. in biology from Yale University in 1999 and an M.A. in biology from SBU in 2002. She had started a graduate research project while at SBU studying turtles called diamondback terrapins at Jamaica Bay, NY. Because of a low population, she was unable to get enough data to pursue a Ph.D. thesis in that area. That obstacle, combined with a need to help financially support her husband, who was completing his Ph.D., and their two preschool children, caused an interruption in her education for eight years. But this fall she is continuing her graduate studies at SBU.
From 2002 to 2010, Oomen-Hajagos held a variety of jobs. She was a consultant at Applied Biomathematics, working with Lev Ginsburg, SBU Professor in the Department of Ecology and Evolution, from 2002-2003. She then worked as a science teacher, first in Brooklyn, then in Mount Sinai, Long Island; a proofreader for Blackwell Publishing; and, most recently, she was an associate financial advisor at Rocco A. Carriero & Associates, part of Ameriprise Financial.
"As I return to SBU to pursue a Ph.D. in genetics, after spending several years in the workforce and raising young children, the Chasman Scholarship will provide much appreciated additional support," Oomen-Hajagos said. "My eventual career goal is to obtain a position conducting research in genetics and teaching at the university level."
2010-11175 | INT/EXT | Newsroom