Buddy Merriam to Perform at Brookhaven National Laboratory October 16
30th anniversary extravaganza for Buddy Merriam and Back Roads Band
September 17, 2010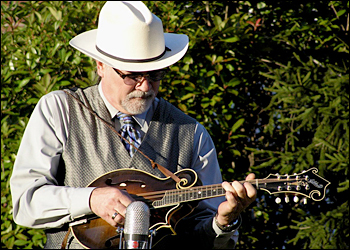 enlarge
Buddy Merriam
Buddy Merriam and Back Roads will perform at the U.S. Department of Energy's Brookhaven National Laboratory on Saturday, October 16, at 8 p.m. in Berkner Hall. Sponsored by the BNL Music Club, the concert is open to the public. All visitors to the Laboratory 16 and older must bring a photo I.D.
This year, Buddy Merriam and Back Roads celebrate 30 years of playing traditional bluegrass music. Merriam credits his love of bluegrass music to Bill Monroe, "the father of bluegrass," who was his early mentor.
Merriam and Back Roads have entertained a wide spectrum of audiences by performing at venues like the Grand Ole Opry in Nashville and at Long Island's Vail Leavitt Concert Hall, Huntington Folk Music Festival, Heckscher Park concert series, and the Stony Brook Museum Folk and Fiddle Festival. The band performs at bluegrass festivals throughout the United States. In 2004, the band toured Ireland. Merriam and Back Roads have also been featured on CMT's "Bluegrass Sound," WKET TV, and Merriam regularly hosts the weekly Bluegrass Time show on WUSB radio.
In 2009, the band released the CD "Buddy Merriam-Back Roads Mandolin," featuring 14 of Merriam's original mandolin tunes — bluegrass, waltz, gypsy jazz, and some contemporary interpretation of Merriam's original style. The CD featured Ernie Sykes on vocals and bass, Jerry Oland on banjo, Kathy DeVine on guitar, lead and harmony vocals, and Bob Harris on flat picking guitar.
Tickets for the concert are $20 in advance and $25 the day of the show. Tickets may be purchased through ticketweb.com, or at the door. Advance ticket purchase is recommended.
For more information, call 631 344-3846.
See the Buddy Merriam and Back Roads website for more information.
2010-11177 | INT/EXT | Newsroom