Pianist Vassily Primakov to perform at Brookhaven Lab November 3
October 15, 2010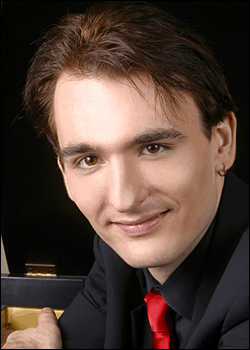 enlarge
Vassily Primakov
Pianist Vassily Primakov will perform at the U.S. Department of Energy's Brookhaven National Laboratory on Wednesday, November 3, at noon in Berkner Hall. Sponsored by Brookhaven Science Associates, the concert is free and open to the public. All visitors to the Laboratory 16 and older must bring a photo I.D.
Since the release of his Chopin Concertos recording, Vassily Primakov has been hailed as a pianist of world class significance.
According to the classical music review magazine Gramophone, "Primakov is an immensely talented individual and may be the best modern version of the Dvorák Piano Concerto. Primakov's empathy with Chopin's spirit could hardly be more complete."
Keyboard virtuoso Vassily Primakov possesses an enormous technique, a highly individual interpretive persona, and a keen sense for drama in the big moments of romantic and post-romantic works. To watch him at the piano in performance underscores this view: Primakov often plays as if in a trance, seemingly carried away by the music, while still conveying the sense that he is in complete control despite any technical challenges that confront him. His growing number of fans will assert that he is fun to watch in his captivating mixture of eccentricity and sensitive virtuosity.
Primakov was born in Moscow in 1979 and entered Moscow's Central Special Music School at the age of eleven. At seventeen, he came to New York to pursue studies at the Juilliard School with the noted pianist Jerome Lowenthal. At Juilliard, Primakov won the William Petschek Piano Recital Award, presenting his debut recital at Alice Tully Hall. He won both the Silver Medal and the Audience Prize in the 2002 Gina Bachauer International Artists Piano Competition, and later that year also won First Prize in the 2002 Young Concert Artists International Auditions. In 2007, he was named the Classical Recording Foundation's "Young Artist of the Year," and in 2009, his Chopin Mazurka CD was named "Best of the Year" by National Public Radio.
For this recital, Primakov has selected a program of works by Chopin and Rachmaninoff.
2010-11190 | INT/EXT | Newsroom