Contact:
Peter Genzer
, (631) 344-3174 | Written by Diane Greenberg
Frost & Sullivan is issuing this news release today. Hybridyne Imaging Technologies, Inc. will receive the 2010 North American Frost & Sullivan Award for Technology Innovation of the Year on November 16 at an awards banquet in San Antonio, Texas, for ProxiScan™ – a compact camera for high-resolution imaging of prostate cancer. Hybridyne developed the device with scientists from the U.S. Department of Energy's Brookhaven National Laboratory. For more information, contact Frost & Sullivan, 210-348-1000; or Terry Lall, Hybridyne Imaging Technologies, Inc., 416-218-5578, tcalinc@rogers.com; or Diane Greenberg, Brookhaven National Laboratory, 631-344-2347, greenb@bnl.gov.
Frost & Sullivan Award Highlights Hybridyne Technologies' Outstanding Technology Innovation
October 26, 2010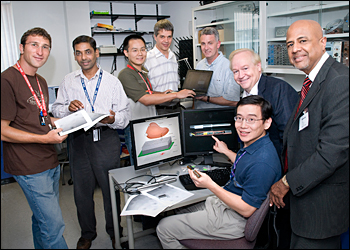 enlarge
Hybridyne Imaging Technologies President and CEO Terry Lall (far right) reviews the capabilities of ProxiScan™ with Brookhaven National Laboratory researchers.
MOUNTAIN VIEW, Calif. — October 26, 2010 — Based on its recent analysis of the prostate cancer diagnosis market, Frost & Sullivan recognizes Hybridyne Technologies, Inc. with the 2010 North American Frost & Sullivan Award for Technology Innovation of the Year.
ProxiScan™, recently approved by the FDA, is based on the compact cadmium-zinc-telluride (CZT) detector, which is the core enabling component for creating high resolution images. ProxiScan™ is unique because it differs from traditional scintillator-based SPECT gamma cameras by offering much higher spatial resolution. It emerges as a technology that can lead to a more accurate and timely diagnosis and vastly improve upon the treatment strategies used for patients, leading to improved cancer care.
"This technology has the distinct advantages of being compact and less costly, while offering better image quality within a smaller field of view," explains Frost & Sullivan Industry Analyst Sangeetha Prabakar. "Not only does it provide effective and more accurate localization of cancer at an earlier stage, the device's compactness also allows more accurate imaging by targeting the desired imaging area."
Because of its compact design, ProxiScan™ can be used for trans-rectal imaging and intra-body cavity measurements, which were originally not possible with conventional gamma cameras. With ProxiScan™, the working distance between the gamma camera and prostate gland is greatly minimized. This allows urologists to obtain much better images of abnormal tissue with smaller amounts of the injected radioactive tracer.
"ProxiScan™'s spectrometer-mode imaging capabilities, coupled with its proximity to the imaging area, greatly reduces the adverse effects of scattered radiation, allowing ProxiScan™ to mitigate this key issue that limits image quality," remarks Prabakar. "The system — by being capable of producing high-fidelity pictures more clearly — detects and localizes cancerous tumors distributed throughout the regions of interest, with the potential to detect very small tumors that would be missed with other nuclear-medical imaging technologies."
Frost & Sullivan's research shows ProxiScan™'s underlying technology is likely to emerge as one of the best solutions for prostate cancer diagnosis and can potentially help physicians with its greater level of sensitivity and precision at a relatively lower cost. In addition, physicians could find it easier to use because of its ease of installation and ready availability in their offices.
Furthermore, since urologists currently use trans-rectal ultrasound probes, the use of Hybridyne's ProxiScan™ is expected to find easy acceptance among primary end users as an intra-body-cavity probe. For patients, the compact size of the system may enhance convenience and lead to overall cost reductions for prostate cancer diagnosis and treatment.
"This will have a positive impact on most stages of cancer detection and treatment, including diagnosis, assistance with image-guided biopsies, and active surveillance," notes Prabakar. "Other potential applications of ProxiScan™ technology include the detection and management of other diseases that could benefit from higher resolution imaging, such as breast, thyroid, brain, cervical, colorectal and uterine cancers, as well as small animal research, such as nuclear medical studies on mice and rats for drug development."
Each year, Frost & Sullivan presents this award to a company that has demonstrated excellence in the following categories: uniqueness of technology, impact on new products/applications, impact on functionality, impact on customer value and relevance of innovation to industry.
Frost & Sullivan Best Practices Awards recognize companies in a variety of regional and global markets for demonstrating outstanding achievement and superior performance in areas such as leadership, technological innovation, customer service, and strategic product development. Industry analysts compare market participants and measure performance through in-depth interviews, analysis, and extensive secondary research in order to identify best practices in the industry.
About Hybridyne Imaging Technologies, Inc
Hybridyne Imaging Technologies, based in Toronto, Canada, is a company that specializes in the development of compact gamma cameras for nuclear medicine studies. The company's recent innovation, ProxiScan™ — a miniaturized gamma camera and probe for high resolution imaging of prostate cancer — was born out of collaborative research efforts between the firm and the U.S. Department of Energy's Brookhaven National Laboratory scientists. The U.S. Department of Energy's (DOE) Office of Nonproliferation Research and Development has been the principal funding source for the development of CZT detectors — the core enabling component of ProxiScan™ — while Hybridyne Imaging Technologies funded the design and engineering of the physical device. Sixteen patents related to the ProxiScan™ technology, covering detector design, fabrication and imaging are held by Hybridyne and its collaborators at Brookhaven National Laboratory. The company was the recipient of the 2009 R&D 100 Award for the development of ProxiScan™. Hybridyne recently entered into a Cooperative Research and Development Agreement (CRADA) with Brookhaven Science Associates, LLC, the manager of Brookhaven National Laboratory, for developing ProxiScan™ for the imaging of cancer and detection of other abnormalities in the body.
The company received FDA clearance for the ProxiScan™ imaging device in April 2010 for intra-operative use, on pathological specimens, and for endocavity applications. Incidentally, ProxiScan™ is the first ever gamma camera device to be FDA cleared for use on animal models. Hybridyne has thus emerged as a technology pioneer in this field by developing a novel device that allows physicians to do a more specific and confirmatory diagnosis of the disease; as such, patients are now assured of a potential lifesaving treatment.
About Frost & Sullivan
Frost & Sullivan, the Growth Partnership Company, enables clients to accelerate growth and achieve best-in-class positions in growth, innovation and leadership. The company's Growth Partnership Service provides the CEO and the CEO's Growth Team with disciplined research and best-practice models to drive the generation, evaluation, and implementation of powerful growth strategies. Frost & Sullivan leverages over 45 years of experience in partnering with Global 1000 companies, emerging businesses and the investment community from 40 offices on six continents. Visit the Frost & Sullivan website to join our Growth Partnership.
2010-11192 | INT/EXT | Newsroom