Contact:
Peter Genzer
, (631) 344-3174 | Written by Diane Greenberg
Robert Lincoln Named Chief Human Resources Officer at Brookhaven Lab
September 7, 2011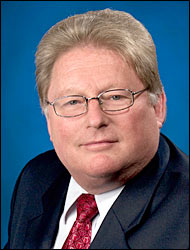 enlarge
Robert Lincoln
UPTON, NY — Robert Lincoln, former vice president of human resources at Battelle Services Company, has been named chief human resources officer at the U.S. Department of Energy's (DOE) Brookhaven National Laboratory, effective October 1, 2011, following a national search.
Brookhaven Lab has approximately 3,150 employees and an annual budget of about $675 million. In his new position, Lincoln will be in charge of Brookhaven's Human Resources & Occupational Medicine Division, managing a staff of about 85 professionals who are responsible for the recruitment and retention of a diverse and talented workforce; administering the Laboratory's compensation and benefit programs; employee relations, management and staff development; employee wellness programs; employee assistance services; occupational medicine programs; oversight of guest information and human resources information systems; guest, user and visitor services; and administering contracts for three on-site unions.
"I'm very excited about joining Brookhaven Lab," Lincoln said. "It has a rich history of scientific accomplishment, and I have a great affinity for the Lab, the talented staff, and its many exceptional accomplishments. During my interim role at Brookhaven, we were successful in deploying a new human resources (HR) delivery model – locating HR managers directly in the Lab's directorates, so that they can provide direct counsel and advice to management and staff, and act proactively to identify and resolve issues as they arise. Also, working with Lab leadership, we have made significant progress in positioning the Lab to develop the next generation of leaders through introducing our leadership engagement and development program, which enhances our talent management and succession planning and creates a leadership pipeline."
After earning a B.S. in business administration, manpower, and industrial relations at The Ohio State University, Lincoln worked in various HR roles in retail and manufacturing industries before joining Battelle Memorial Institute in 1985 as an assistant manager in Organizational Development. Battelle Memorial Institute is the world's largest private research and development organization with revenues of more than $4 billion annually and 21,000 staff in over 40 states and eight international locations. Lincoln worked his way through the ranks to become vice president, Battelle Corporate Offices in 1996, leading a staff of 65 and managing a human resources budget of $8 million for 5,000 employees at Battelle's headquarters in Columbus, Ohio. In that role, Lincoln was a key member of the teams that led the large-scale procurement processes that culminated in Battelle's acquiring contracts to manage four national laboratories/facilities for DOE. Subsequently, he successfully led HR teams in the transition of operating contractors for two national labs, including Brookhaven National Lab in 1997. Lincoln was also a key figure in the spinout of five high technology pre-initial public offering businesses in the late 1990s and early 2000s that leveraged Battelle technology.
In 2009, Lincoln became vice president of human resources for Battelle Services Company, Inc., another division of Battelle Memorial Institute. Among his key accomplishments in that position were developing strategy and implementing HR infrastructure for five Asia Pacific startup companies in India, Japan, Korea and Malaysia, and serving as an internal consultant providing HR expertise to Battelle's cadre of national laboratories.
2011-11323 | INT/EXT | Newsroom