Contact:
Peter Genzer
, (631) 344-3174 | Written by Diane Greenberg
Stony Brook University Student Zhixun Dou Wins Dr. Mow Shiah Lin Scholarship
October 13, 2011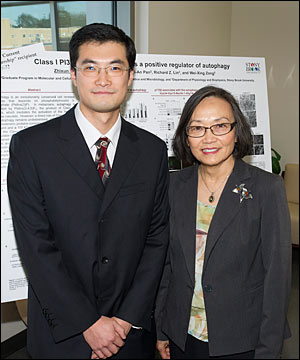 enlarge
Zhixun Dou and Brookhaven Lab's Beth Lin, widow of Dr. Mow Shiah Lin
UPTON, NY — Zhixun Dou, a graduate student in Stony Brook University, has won the seventh annual Dr. Mow Shiah Lin Scholarship sponsored by the Asian Pacific American Association at the U.S. Department of Energy's Brookhaven National Laboratory. Dou recently made a groundbreaking discovery that illuminates how autophagy, a cell metabolic process, is regulated.
Established to honor the distinguished late Brookhaven Lab scientist for whom it was named, the scholarship consists of $1,000 and a plaque. Dou received the award at a ceremony held at Brookhaven Lab on October 6.
Activated in response to various cellular stresses, autophagy is a normal process in which cells break down their own components. The balanced functioning of autophagy is essential in preventing several human diseases, including cancer and Parkinson's disease. Dou found that a class of enzyme known as lipid kinase plays a critical role in regulating autophagy. This finding was published in the November 15, 2010 edition of the Journal of Cell Biology, and Dou received the 2010 Abrahams Award for Outstanding Achievement by a Graduate Student for the discovery.
"I am grateful to receive this scholarship," Dou said. "After I receive my Ph.D., I plan to continue training as a post-doctorate fellow in an academic laboratory. I would like to establish my own laboratory to study human diseases, such as cancer and diabetes, and I hope my research on cell metabolism will contribute to novel therapies in preventing and curing diseases."
Mow Shiah Lin began his career at Brookhaven Lab in 1975 as a postdoctoral fellow and advanced to co-lead a research team working with an environmental remediation company to use selected bacteria to convert toxic oil wastes, such as used motor oils, into useful products. In 2001, Lin shared an R&D 100 Award, given by R&D Magazine for the top 100 technological achievements of the year, for developing a technology to recover silica from geothermal brine. Lin died suddenly due to a brain aneurysm at the height of his career in 2003, and his coworkers, friends and family contributed funds to establish the scholarship.
In remembrance of the manner in which Lin began his career, the scholarship is granted annually to an Asian immigrant with a student visa who is matriculated at an accredited institution of higher education on Long Island (including Brooklyn and Queens) working toward a graduate degree in environmental & energy technology, biology, or chemistry.
Dou earned a B.S. in biological sciences from Nankai University in Tianjin, China, and he enrolled in Stony Brook's graduate program in molecular and cellular biology in 2007. He expects to receive his Ph.D. in 2012.
2011-11336 | INT/EXT | Newsroom