Essayist David Bouchier to Speak at Brookhaven Lab, December 14
November 22, 2011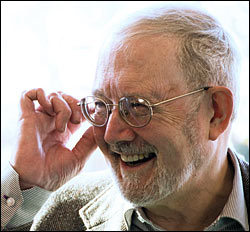 enlarge
David Bouchier
UPTON, NY — Essayist David Bouchier will give a talk at Brookhaven National Laboratory on Wednesday, December 14, at noon in Berkner Hall. Sponsored by Brookhaven Science Associates, the company that manages the Lab, the event is free and open to the public. All visitors to the Laboratory 16 and older must bring a photo I.D.
Bouchier describes himself as an unapologetic essayist. He has been writing and publishing personal essays for almost 50 years, and continues to indulge the habit as the weekly commentator for public radio stations WSHU and WSUF. "I don't seem to be able to stop," he says, "There are just so many peculiar things out there waiting to be written about."
Born in London, Bouchier worked there as a journalist and a bookseller in the 1960s and 1970s. Finding that both of these occupations involved too much hard work, he changed tracks and became an academic, teaching sociology first at the University of Essex in England and later at Stony Brook University and Suffolk County Community College in Riverhead.
Once he retired from teaching he took up journalism again, writing columns for many American and British newspapers and magazines. His humor column "Out of Order" appeared in the regional Sunday edition of the New York Times for ten years until 2003 and, since 1992, has established a distinctively ironic voice on public radio in New York and Connecticut. He hosts a lively program of classical music and commentary called Sunday Matinée.
Bouchier has published six books of essays, the latest of which has just appeared under the title Peripheral Vision: Irregular Essays from Public Radio. For his performance at Brookhaven Lab, he will read from this collection and talk about the special pleasures of the personal essay.
Call (631) 344-2345 for more information. The Laboratory is located on William Floyd Parkway (County Road 46), one-and-a-half miles north of Exit 68 of the Long Island Expressway.
2011-11352 | INT/EXT | Newsroom