Contact:
Peter Genzer
, (631) 344-3174 | Written by Diane Greenberg
Launching the Long Island STEM Hub – Preparing Students for Careers in Science, Technology, Engineering, and Mathematics
December 6, 2011
UPTON, NY — About 250 educators, business representatives, and government officials attended the Long Island STEM Hub Summit at Farmingdale State College today to support the launch of a new initiative that will focus on preparing students for the Island's high-tech workforce, which requires science, technology, engineering and mathematics (STEM) skills to support economic growth in the region.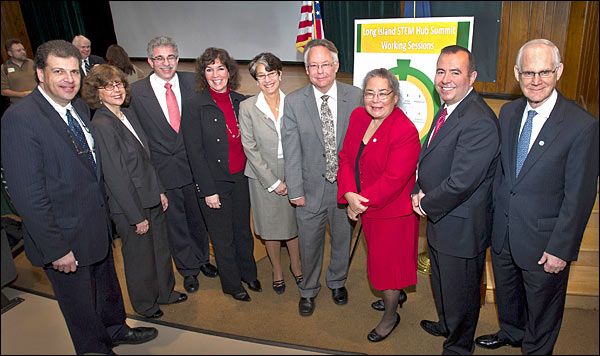 enlarge
Some key STEM Hub partners are: (from left) Mark Grossman, Commissioner's Long Island regional representative, NYS Department of Labor; Mona Goldstein, executive director, LIRACHE – Long Island Regional Council on Higher Education; Ken White, manager, Office of Educational Programs, Brookhaven National Laboratory; Cheryl Davidson, executive director, Long Island Works Coalition; Harriet Copel, director, Long Island Museum of Science and Technology; Doon Gibbs, deputy director for science and technology, Brookhaven Lab; Margaret Ashida, director, Empire State STEM Learning Network; Joseph Cabral, senior vice president, human resources, North Shore-Long Island Jewish Health Systems; and Hubert Keen, president, Farmingdale State College.
One of 10 such programs being formed as part of the Empire State STEM Learning Network, the Long Island STEM Hub will develop a cohesive group of resources for local businesses, school districts, students, parents, teachers, universities, and worker-training operations to address STEM workforce needs in the region. The hub will support the coordination of local resources, including numerous partners who have already pledged their support for the initiative, to provide enhanced STEM learning opportunities and real-world STEM work experience training for students, teachers and unemployed/underemployed or displaced workers, with the end goal of significantly boosting the Island's technical workforce.
The U.S. Department of Energy's Brookhaven National Laboratory — in partnership with the Long Island Museum of Science and Technology (LIMSAT), the Long Island Works Coalition, and the Long Island Cradle of Aviation, and many others — is the lead organization for launching the Long Island STEM Hub.
Hubert Keen, president of Farmingdale State College, and Roger Tilles, a member of the New York State Board of Regents, welcomed participants attending the launch of this regional initiative. Joseph Cabral, senior vice president for human resources at North Shore Long Island Jewish Health Systems, discussed the challenges faced by the region's businesses in finding STEM workers and noted the need to prepare local youth for jobs on Long Island. Margaret Ashida, director of the Empire State STEM Learning Network, spoke of the importance of STEM capabilities and careers to the economic wellbeing of New York State and the nation.
Ken White, manager of Brookhaven Lab's Office of Educational Programs, said, "Long Island has many businesses, as well as educational and scientific institutions, that need a technical workforce, but students are not pursuing studies in STEM, and young people are leaving Long Island when good jobs are available here. The goal of the STEM Hub is to create a pipeline of STEM-literate students who can compete in the local workplace. By making connections early on with business, students can identify career opportunities and help reverse the oft cited 'brain drain' taking place on Long Island." White then shared the draft goals and intent of the STEM Hub, noting that it is imperative to find a way to enable the business community to interact efficiently and effectively with academia and not-for-profit providers of STEM training.
Attendees participated in eight sessions designed to help guide the longer-term strategic plan for the STEM Hub. Each session focused on key industry clusters for Long Island, including energy and environment, homeland security, advanced manufacturing, and global business. One objective is to develop regional industry councils that will facilitate business/academic engagement with one another, particularly in these industry clusters.
Brookhaven Lab Deputy Director for Science and Technology Doon Gibbs announced the formation of a science center serving families and schools called "Portal to Discovery" at Brookhaven Lab. The Portal will initially consist of the Lab's existing science-learning facilities and a partnership with the Long Island Museum of Science and Technology (LIMSAT), a not-for-profit institution dedicated to STEM education. Brookhaven Lab recently signed a Memorandum of Understanding with LIMSAT to collaborate on bringing more science-based programming to Long Island students, and to then work together to realize a prominent science center on Long Island. The Portal to Discovery will be an extension of the Lab's numerous educational programs that have been inspiring students to pursue careers in science and related fields for decades.
The partnership's first efforts are already yielding successful results. The Long Island Community Foundation (LICF) recently awarded a $45,000 grant to LIMSAT, Brookhaven Lab, and the Long Island Works Coalition to support the STEM Hub and to provide programs for local underrepresented students and teachers. LICF recognized the potential for the STEM Hub and has chosen to seed its start with this funding, with a desire to see other funding sources also support the effort.
Gibbs named White as the founding director of the Portal to Discovery, and introduced Harriet Copel, LIMSAT's executive director, both of whom are committed to bringing the Portal to Discovery to fruition.
Prior to closing the event, Gibbs awarded $5,000 checks to the Paul J. Gelinas Junior High School and Smithtown East High School on behalf of Battelle Memorial Institute.
The Empire State STEM Learning Network initiative is part of a six-state consortium that has received support from the Bill & Melinda Gates Foundation, Battelle, and the AT&T Foundation. The initiative aims to build the capacity of local communities to create and institute innovative and sustainable STEM schools, policies, programs, platforms, and partnerships to improve the college- and career-readiness of all students. Through its collaboration with the statewide network, Long Island will benefit from the experiences of other STEM Hubs in New York and other states.
For more information about the STEM Hub Summit, including a list of STEM Hub partners, see: www.bnl.gov/stemhub.
2011-11365 | INT/EXT | Newsroom