Pianist Nadejda Vlaeva to Perform at Brookhaven Lab, February 1
January 5, 2012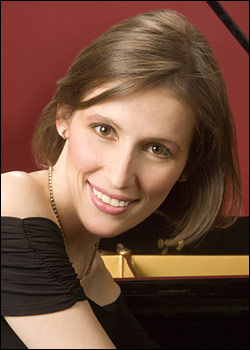 enlarge
Nadejda Vlaeva
Photo courtesy of Christian Steiner.
UPTON, NY — Nadejda Vlaeva, an international performer who has given solo recitals and concerto performances throughout Europe and North America, will give a recital at the U.S. Department of Energy's Brookhaven National Laboratory on Wednesday, February 1, 2012, at noon in Berkner Hall. Sponsored by Brookhaven Science Associates, the company that manages the Lab, the concert is free and open to the public. All visitors to the Laboratory 16 and older must bring a photo I.D.
Ms. Vlaeva's playing has been acclaimed wherever she has appeared. Renowned Russian pianist Lazar Berman called her talent "God-given," and Maestro Hans Graf observed that "her musicality and the depth of her interpretation amazed me." Arnold Steinhardt, leader of the Guarneri String Quartet, praised Vlaeva as "one of those people of extraordinary ability whom we hope for but rarely see."
Among her major awards are first prize at the Liszt Competition in Lucca, Italy and third prize at the International Liszt Competition in Budapest. Her second CD, piano music by Liszt, was released on the MSR Classics label and won the International Grand Prix 'Liszt' du Disque. In 2002, Vlaeva recorded the soundtrack for the documentary film In Search of Cezanne, produced by Academy Award-winner Allan Miller. A disc of Chopin works for piano and orchestra on Gega New was praised for its extraordinary beauty in International Record Review, while a disc titled "A Treasury of Russian Romantic Piano" with works by Bortkiewicz, Medtner, Liadov, Scriabin, Rebikov, Rachmaninov and Lyapunov, has garnered rave reviews in Gramophone, International Record Review, BBC Music Magazine, American Record Guide and Pianist. Last November, her new CD of Bach transcriptions by Saint-Saéns received five stars and a glowing review and was chosen as record of the month by BBC Music Magazine.
Vlaeva's program for BNL includes works by Bach/Saint-Saéns, Liszt, and von Bulow. Vlaeva currently resides in New York, where she has performed in the Rose Hall at Lincoln Center, Merkin Recital Hall, and the Weill Recital Hall in Carnegie Hall.
Call (631) 344-2345 for more information. The Laboratory is located on William Floyd Parkway (County Road 46), one-and-a-half miles north of Exit 68 of the Long Island Expressway.
2012-11376 | INT/EXT | Newsroom