Contact:
Peter Genzer
, (631) 344-3174 | Written by Justin Eure
Long Island STEM Hub Celebrates First Year: Showcases Student Work and Unveils New Tools for Advancing Education
Over 250 local and regional leaders in science, technology, engineering, and mathematics gathered to hear about the STEM Hub's new initiatives and meet with students showcasing their research
May 14, 2013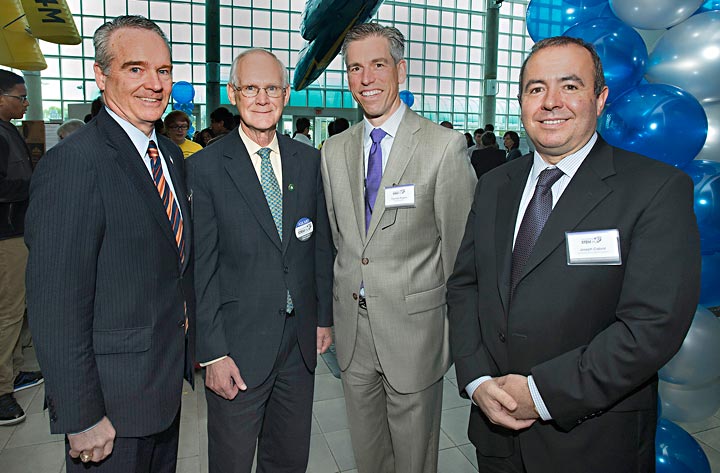 enlarge
The LI STEM Hub just announced its new Board of Champions, which includes (from left) John Cameron of Cameron Engineering, Hubert Keen of Farmingdale State College, Tom Rogers of Nassau BOCES, Joseph Cabral of North Shore-LIJ Health System, and other local leaders.
UPTON, NY—The Long Island STEM (Science, Technology, Engineering, and Mathematics) Hub celebrated its first full year of operation and its achievements in driving advances in education and collaboration throughout the region. Students, teachers, and industry leaders gathered together on Thursday, May 9, 2013, for a showcase of the latest research projects, partnerships, and training opportunities dedicated to strengthening Long Island's contributions to a high-tech future.
"State-of-the-art research was on display at the celebration, showcasing some of the best and brightest young men and women in the country. These students represent the next generation workforce of our existing and emerging high-tech businesses."
- Heather Shivokevich, executive director of LIRACHE
"The future of our region and nation hinge upon a highly educated and innovative work force," said Stuart Rabinowitz, Hofstra University president and co-chair of the Long Island Regional Economic Development Council. "The Long Island STEM Hub built a network of businesses and academic institutions invested in making our economy dynamic and vibrant. This is a powerful tool that creates real synergy between our many STEM workforce development partners."
The LI STEM Hub is one of 10 such initiatives forming throughout New York State as part of the Empire State STEM Learning Network. The organization—co-stewarded by the U.S. Department of Energy's Brookhaven National Laboratory and North Shore-LIJ Health System—connects businesses, public schools, parents, teachers, universities, museums, and research institutions based on Long Island in order to forge STEM education programs and partnerships that expand and improve college and career opportunities for students.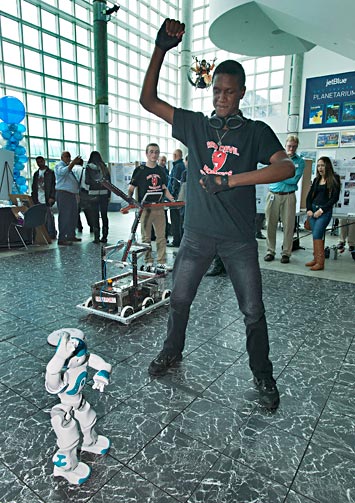 enlarge
This robot is part of the new Silas Woods Middle School STEM Career Academy in South Huntington, where sixth-grade students learn programming as part of the STEM program.
The celebration, held at the Cradle of Aviation in Garden City, featured the work of 150 students from local high schools and colleges and showed the benefits of their participation in programs offered by STEM Hub partners. The students displayed posters on a wide range of scientific disciplines, demonstrated cutting-edge research on robotics, and explored networking opportunities with peers and leading Long Island companies and institutions.
"Students and educators are at the center of the STEM Hub mission," said Heather Shivokevich, executive director of LIRACHE, a consortium of 19 colleges and universities across Long Island. "State-of-the-art research was on display at the celebration, showcasing some of the best and brightest young men and women in the country. These students represent the next generation workforce of our existing and emerging high-tech businesses."
Doon Gibbs, director of Brookhaven National Laboratory, noted the strong relationship between education and the Lab's research endeavors in basic and applied science. "The STEM Hub embodies the ongoing commitment of Brookhaven Lab to inspiring and preparing future scientists and engineers," Gibbs said.
The LI STEM Hub also announced the members of its new "Board of Champions," a group of industry and academic leaders committed to building a strong STEM workforce. Members of the Board of Champions (see sidebar) will help secure sustainable funding, focus efforts to meet the needs of the Long Island business community, and incorporate the STEM Hub mission into their own operations.
"Inviting these local champions to become directly involved with the Long Island STEM Hub strengthens their investment in the community and the future," said Joseph Cabral, chief human resources officer for North Shore-LIJ Health System. "We are honored to be joined by these leading institutions, which represent the unparalleled potential of Long Island."
A redesigned and updated website, www.listemhub.org, further enhances STEM outreach and program coordination by offering several tools for the Long Island community to access STEM activities. Application processes for students and educators seeking work experience with STEM business partners is now online and active for the upcoming summer. A new searchable database of STEM programs available on Long Island was developed by the organization Connect to Tech—the not-for-profit group leading the Hub's Information Technology industry council—and is also now accessible from the website.
"In partnership with the Long Island Matrix for Science and Technology, we conducted a preliminary review of STEM programs available to Long Island residents," said Ken White, founding director of the Portal to Discovery and manager of Brookhaven Lab's educational programs. "We view this as an essential step in broadening opportunities, providing a basis for new STEM programs, and for directing people to existing programs. The analysis identified more than 870 STEM programs, all of which can now be found through a search engine, thanks to our Connect to Tech partners."
In its first year, the LI STEM Hub formed Regional Industry Councils—led by industry and academic leaders—in Healthcare and Life Sciences, Aviation, Information Technology, and Engineering, with other councils scheduled to begin soon. The organization also received a $320,000 grant from the Empire State Development Corporation to support the STEM Hub initiative, as well as grants in 2011 and 2012 from the Long Island Community Foundation.
"We have accomplished a lot in the first year of the Long Island STEM Hub, from forging new community networks to implementing new technology that helps students and educators advance their careers," said Cheryl Davidson, North Shore-LIJ's director for Workforce Development. "We are also supporting six school districts with Career Academies, including the first middle school. These academies integrate industry content with academic coursework and hands-on activities."
Diane Bachor of Winthrop-University Hospital, another core company supporting the Hub, added, "Healthcare is both a beneficiary and a breeding ground for new developments in science and technology, and this collaboration will benefit the residents of Long Island in innumerable ways. Our Board of Champions and Regional Industry Councils add new and exciting structure to the STEM Hub, and we have all the tools we need to make even greater strides in the coming years."
2013-11539 | INT/EXT | Newsroom