Pianist Tomer Gewirtzman to Give a Recital at Brookhaven Lab, December 10
November 25, 2014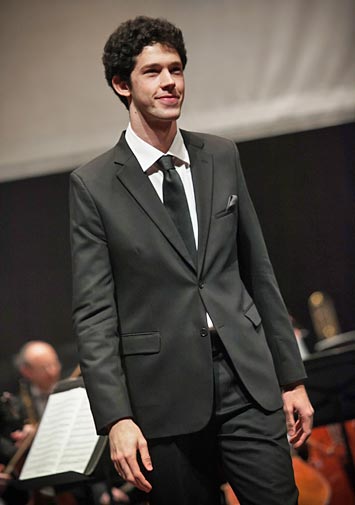 enlarge
Tomer Gewirtzman
UPTON, NY — Pianist Tomer Gewirtzman will give a recital at the U.S. Department of Energy's Brookhaven National Laboratory on Wednesday, December 10, 2014, at noon in Berkner Hall. Sponsored by Brookhaven Science Associates, the event is free and open to the public. All visitors to the Laboratory 16 and older must bring a photo I.D.
Tomer Gewirtzman was awarded first prize in several Israeli national competitions. In the United States, he won first prize in the Aspen Music Festival and School piano concerto competition, which led to his debut performance in the Aspen Music Tent in August, 2009. In 2010, he won first prize in the Clairmont competition in Israel, and a special prize for the commissioned piece of the competition. That same year, he also won first prize in the Piano Forever competition in Ashdod and a full scholarship to attend master classes in the United States. This award provided him an opportunity to perform as soloist with the Ashdod Symphony Orchestra. In 2011, Gewirtzman was awarded the Dorothy MacKenzie prize from the International Piano Institute Festival in New York. He is also the recipient of the prestigious Kovner Fellowship award.
Gewirtzman has participated and performed in prestigious international festivals and played on live radio shows in Israel and the United States. He has played in master classes with Emanuel Ax, Yefim Bronfman, Menahem Pressler, Dmitri Bashkirov, Nikolai Petrov and Paul Badura Skoda, among other fine pianists of our time. In addition to his recitals throughout Israel, including the Israel Philharmonic Orchestra, Jerusalem Symphony Orchestra and the Haifa Symphony Orchestra, he has debuted at London's Steinway Hall and in Paris in the Salle Cortot of the Ecole Normale. He was also invited to play recitals in the United States and in Russia in Nikolai Petrov's Kremlin festival.
Gewirtzman is currently working toward the Master of Music degree at the Juilliard School in New York.
For his recital at Brookhaven, Gewirtzman will perform works by Chopin and Rachmaninoff.
Call (631) 344-2345 for more information.
2014-11683 | INT/EXT | Newsroom