Stony Brook Opera at Brookhaven Lab, April 22
Preview of Donizetti's Lucia di Lammermoor
March 24, 2015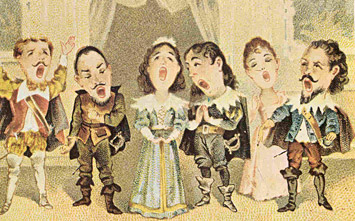 enlarge
Cartoon (around the turn of the century 1900), by unknown author, of the Sextet from the opera Lucia di Lammermoor by Gaetano Donizetti.
UPTON, NY — The Stony Brook Opera will perform at the U.S. Department of Energy's Brookhaven National Laboratory on Wednesday, April 22, 2015 at noon in Berkner Hall. Sponsored by Brookhaven Science Associates, the event is free and open to the public. All visitors to the Laboratory 16 and older must bring a photo I.D.
The Stony Brook Opera will present a preview of its upcoming semi-staged concert performances of Donizetti's popular bel canto masterpiece Lucia di Lammermoor. David Lawton, Professor of Music and Artistic Director of Stony Brook Opera will conduct, and the cast will perform excerpts from the opera with piano accompaniment, sung in the original Italian language, with projected titles in English. Brenda Harris, a leading soprano in American regional opera and Performing Artist in Residence at Stony Brook University, will stage the opera.
Most of the cast members will be familiar to Brookhaven National Laboratory audiences from the Opera Gala program that Stony Brook Opera performed at the Lab's Berkner Hall this past November. Soprano Jennifer Sung will perform the title role, with tenor David Guzman as Edgardo, and baritone Joseph Han as Enrico. Mezzo soprano Kristin Starkey performs the role of Alisa, tenor Christopher Reames that of Arturo, with guest artists Charles Temkey (bass) as Raimondo and Chad Kranak (tenor) as Normanno. At the preview, Stony Brook Opera will perform extended excerpts from each of the three acts: Lucia's aria from Act I, followed by her love duet with Edgardo; the celebrated Sextet at the end Act II; the Wolf Crag scene for Edgardo and Enrico in Act III (rarely heard in traditional performances), and excerpts from Lucia's famous mad scene and Edgardo's moving death scene.
Call (631) 344-2345 for more information.
2015-11707 | INT/EXT | Newsroom