Korean Guitarist Jiji to Perform at Brookhaven Lab, March 29
February 28, 2017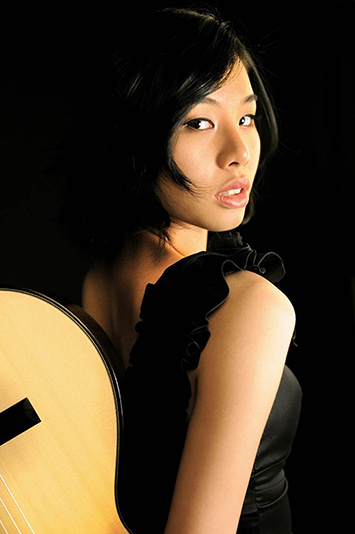 enlarge
Jiji
UPTON, NY — Guitarist Jiji (Jiyeon Kim) will perform in concert at the U.S. Department of Energy's Brookhaven National Laboratory on Wednesday, March 29, at noon in Berkner Hall. Sponsored by Brookhaven Science Associates (BSA), the event is free and open to the public. All visitors to the Laboratory 16 and older must bring a photo I.D.
Called "brilliant" by the Calgary Herald, Jiji is an adventurous artist on both acoustic and electric guitar, playing an extensive range of music from traditional and contemporary classical music to free improvisation. Her musicianship combined with compelling stage presence and fascinating repertoire earned the Korean guitarist First Prize at the 2016 Concert Artists Guild (CAG) International Competition.
Upcoming engagements include her New York Recital debut at Weill Recital Hall on the CAG series, and numerous other performance prizes resulting from her CAG victory. She has also been featured on PBS (On Stage at Curtis series), NPR's From the Top, WHYY-TV, FOX 4-TV, Munchies (the Vice Channel), The Not So Late Show (Channel 6, Kansas), and Hong Kong broadcast station RTHK's The Works.
A passionate advocate of new music, Jiji has premiered a duo piece, "Talking Guitars," by renowned composer, Paul Lansky. Her subsequent studio recording of that work (with young Chinese guitarist Hao Yang) will be released on Bridge Records in the 2017-18 season. She has premiered works by numerous emerging composers. She also performs her own compositions, incorporating electronic media and acoustic music, and currently works as a composer with the Yale Repertory Theater, Yale Cabaret, and Yale school of Art. Her music is influenced by her regular activities as a DJ, where she highlights the electronic dance styles of happy hardcore and Berlin experimental electronica.
Born in Seoul, South Korea, Jiji began playing classical guitar at the age of nine, and was accepted to the Korea National University of Arts at 14. She attended the Cleveland Institute of Music, where she studied with Jason Vieaux, and was accepted at the Curtis Institute of Music in 2011 as one of the first two guitarists in Curtis' distinguished history. She graduated Curtis in 2015 and is currently pursuing a Master of Music degree at the Yale School of Music, studying with Benjamin Verdery.
Jiji's program for her concert at the Lab will include works by Albeniz, Ginastera, Vivaldi, Bach, Lansky and Reich.
Call (631) 344-2345 for more information.
Media Contacts: Jane Koropsak, jane@bnl.gov, (631) 344-4909, or Peter Genzer, genzer@bnl.gov, (631) 344-3174.
2017-12102 | INT/EXT | Newsroom