Contact:
Peter Genzer
, (631) 344-3174 | Written by Kelly Zegers
Al Rielly Named Manager of Brookhaven Lab's Occupational Medicine Clinic
May 26, 2021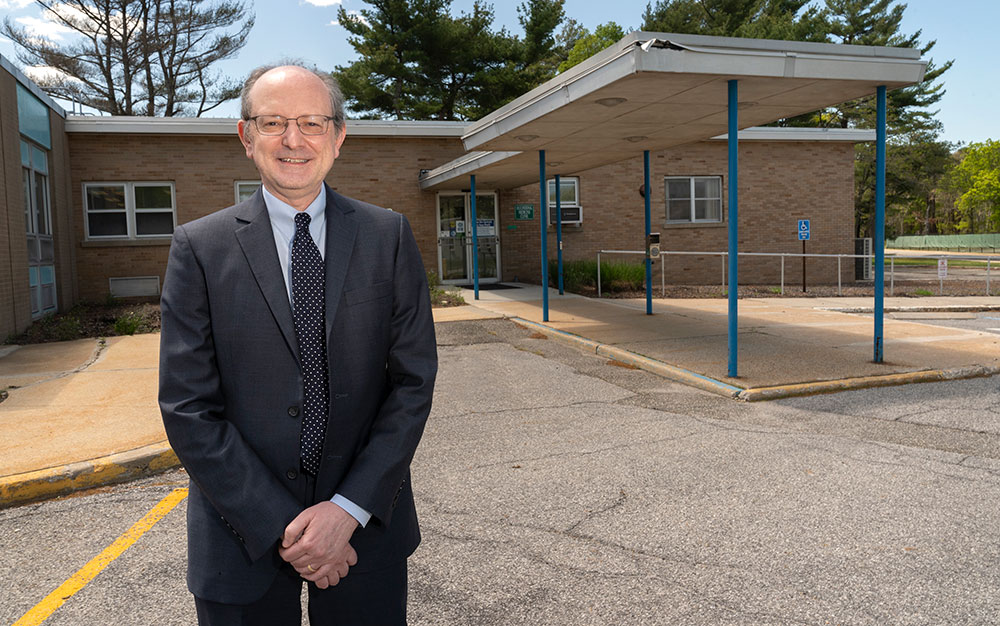 enlarge
Al Rielly in front of Brookhaven Lab's Occupational Medicine Clinic.
UPTON, NY– Al Rielly, an experienced board-certified occupational medicine physician, has been named manager of the Occupational Medicine Clinic (OMC) at the U.S. Department of Energy's Brookhaven National Laboratory, effective March 1, 2021.
The OMC is the Lab's on-site organization that supports employee well-being, health, and safety. Its programs emphasize a proactive approach to health, including a healthy lifestyle, emotional health, disease and injury prevention, and early detection.
"I am very fortunate to have the opportunity to be at Brookhaven National Laboratory and look forward to promoting a safe and healthy workplace," Rielly said.
As OMC manager, Rielly is also a member of the Lab's COVID-19 Task Force, which monitors the evolution of the pandemic and works to keep the Lab community operating effectively and safely.
Rielly previously served as medical director for Massachusetts General Hospital's Occupational Health Service. He also served as a physician for Cambridge Health Alliance, as well as a clinical instructor at Harvard Medical School. Over the course of his career, he has provided high-quality care for researchers and public safety workers and has developed and implemented wellness initiatives.
Rielly replaces Joe Falco as OMC manager. Falco is retiring after nearly 20 years at Brookhaven Lab.
"We are pleased to welcome Al, who brings a wealth of experience in medical care to his role as OMC manager and has quickly assimilated into the Lab and working with staff and leadership across the Lab during the demanding COVID-19 environment," said Robert Lincoln, Chief Human Resources Officer at Brookhaven Lab.
Rielly earned his bachelor's degree at Dartmouth College, his MD from the University of Massachusetts Medical School, and a Master of Public Health from Columbia University Mailman School of Public Health. He received postgraduate training at the Harvard School of Public Health, Stony Brook University, University of Vermont/Fletcher Allen Health Care, and Boston Medical Center.
Brookhaven National Laboratory is supported by the U.S. Department of Energy's Office of Science. The Office of Science is the single largest supporter of basic research in the physical sciences in the United States and is working to address some of the most pressing challenges of our time. For more information, visit https://energy.gov/science.
Follow @BrookhavenLab on Twitter or find us on Facebook.
2021-18896 | INT/EXT | Newsroom