Noel Blackburn Named Chief Diversity Officer at Brookhaven Lab
February 2, 2022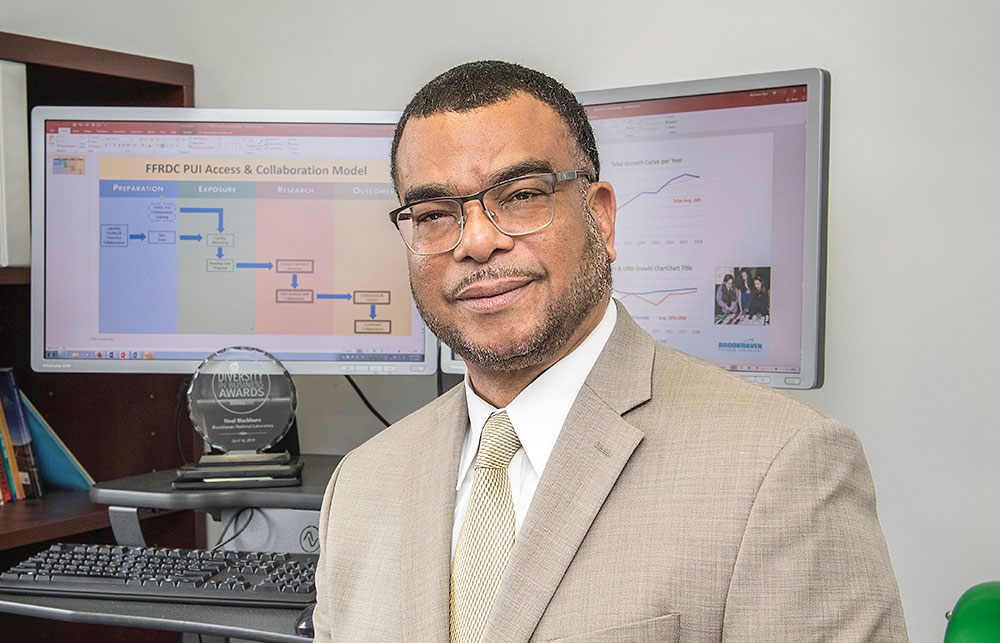 enlarge
Noel Blackburn
UPTON, NY 2/2/22 – Long-time Brookhaven National Laboratory staffer Noel Blackburn has been named the Lab's new Chief Diversity, Equity, and Inclusion (DEI) Officer, effective Dec. 13, 2021. Blackburn brings to the position more than 20 years' experience at Brookhaven, including seven years in the role of Manager, University Programs and DOE Internship Programs, where he successfully built new, enduring relationships and partnerships with Historically Black Colleges and Universities (HBCUs) and Minority-Serving Institutions.
Blackburn succeeds Margaret-Ann Douglas-Miles, who had served as interim Manager for Diversity, Equity, and Inclusion since previous manager Shirley Kendall's retirement in Aug. 2021. In this newly created position, Blackburn will report directly to Laboratory Director Doon Gibbs while continuing to work in partnership with the Human Resources Directorate and Office of Educational Programs to position the organization for continued success in Lab-wide DEI efforts.
"Noel brings to this position a lifelong commitment to the principles and opportunities provided by an inclusive workplace," said Lab Director Doon Gibbs. "Years of collaboration with the Brookhaven science community, Historically Black Colleges and Universities, and Minority-Serving Institutions position him to drive a strong focus on increasing diversity, equity, and inclusion at Brookhaven, which is key to our future success."
In his most recent role, Blackburn was responsible for a $4.3 million/year university internship program, where he designed, implemented, and managed workforce development research programs for undergraduates, graduates, and faculty at Brookhaven Lab, while also creating access opportunities for underrepresented groups through such programs as the Interdisciplinary Consortium for Research and Educational Access in Science and Engineering (InCREASE). Under his tenure, OEP increased participation in the university programs from 67 to 300 interns each year, making Brookhaven's program one of the largest under the Office of Science Workforce Development for Teachers and Scientists program, including 45 percent female and 40 percent underrepresented minority participants.
"I am honored and excited to become the Lab's Chief Diversity, Equity and Inclusion Officer, and I am looking forward to collaborating with all staff at the Lab to advance DEI here," said Blackburn. "Diversity, which includes everyone and focuses on marginalized groups, needs equity to remove barriers so that inclusion can be successful in fostering increased diversity. The Diversity, Equity and Inclusion Office will support the Lab in achieving its mission while developing a safe and respectful workplace where everyone is valued for their unique contributions."
Previously, Blackburn was an educational programs administrator in OEP, a project engineer on the Lab's Peconic River Remediation Project and a field engineer on groundwater and soil remediation projects for the Lab's former Environmental Restoration Division. Before coming to Brookhaven in 1999, Blackburn served in various engineering positions at Bechtel International, Inc. on the Atlantic Liquid Natural Gas Plant, a billion-dollar construction project in Trinidad and Tobago, West Indies. He also has served as an adjunct lecturer for the Physical, Environmental and Computer Science Department at Medgar Evers College, Brooklyn, NY.
Blackburn is a member of several advisory groups, including the Lab's Executive Council for DE&I, the ORISE Distinguished Scientist Advisory Board, the Washington/Baltimore/Hampton Roads Louis Stokes Alliance for Minority Participation Board of Governors, and the Navajo Technical University Environmental Engineering Board of Advisors. He is the recipient of numerous awards, including the Long Island Diversity in Business Award, the DOE Outstanding Mentor Award, the Brookhaven Award, and the Minority Access National Role Model Award.
Blackburn recently earned an Advanced Diversity and Inclusion Certificate from the Cornell University School of Industrial and Labor Relations. He had previously earned a Bachelors in Civil Engineering and a Masters in Environmental Engineering from CUNY-City College of New York.
Brookhaven National Laboratory is supported by the Office of Science of the U.S. Department of Energy. The Office of Science is the single largest supporter of basic research in the physical sciences in the United States and is working to address some of the most pressing challenges of our time. For more information, visit science.energy.gov.
Follow @BrookhavenLab on Twitter or find us on Facebook.
2022-19407 | INT/EXT | Newsroom