Helping Our Neighbors: Lab Firefighters Assist Local Fire Departments at Church Fire in Middle Island
January 26, 2018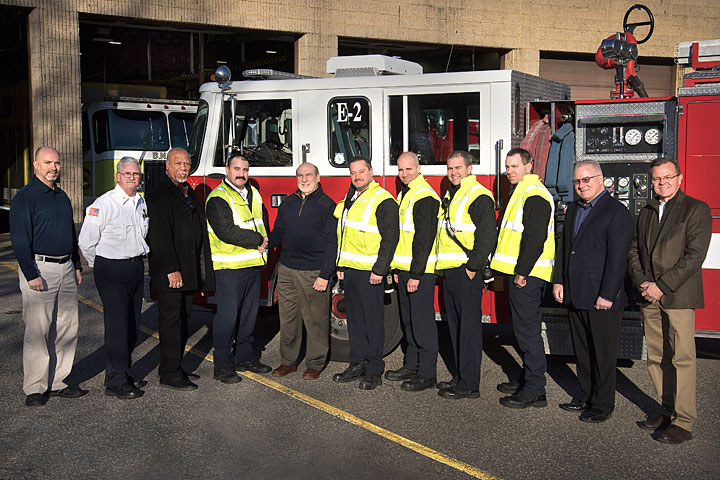 enlarge
With Lee Walcott and Joseph Lecci of City on a Hill Community Church (third and fifth from left, respectively) are Brookhaven's Mike Venegoni, Tim Kelly, Marcel Rosenfeld, Allen Licata, James Schmidt, Vincent Bologna, Peter Marcks, Tom Daniels, and Jack Anderson.
While many of us were preparing for Winter Storm Grayson to blanket Long Island with snow and bring frigid temperatures, Brookhaven Lab firefighters were serving the local community outside of the Lab's gates.
On Jan. 3 at 1:21 p.m., the Lab received a call from Suffolk County Fire-Rescue Services requesting a mutual aid response to the Middle Island Fire Department (MIFD) at City on a Hill Community Church.
Without hesitation, the Lab's Deputy Fire Chief Marcel Rosenfeld—together with Captain Allen Licata, Lieutenant James Schmidt, and firefighters Vincent Bologna and Peter Marcks—put on their firefighting gear and rolled out of the Lab firehouse on the pumper truck. Several crew members and equipment remained on site to ensure that the Lab community was protected at all times.
Upon their arrival at the church, only a few minutes after receiving the initial call for assistance, Brookhaven Lab firefighters could see heavy smoke coming from inside the church's administration building.
"We initially saw a lot of smoke, but no flames," said Licata. "We quickly performed additional assessments and realized the fire was coming from a crawl space under the floor."
"We knew we had to cut the floor to get to the fire source," said Rosenfeld. "We acted quickly and did what was necessary to stop the fire from spreading. We were mindful that this structure is important to the local community because it serves as a food pantry, as well as a communications center for the church's community outreach programs."
Church Pastor Joseph Lecci, Church Elder Lee Walcott, and other members of the congregation were having lunch in another building on Church property when they heard the fire alarm.
"As you can imagine, we were upset by the sound of the alarm and appearance of smoke, but extremely thankful the building wasn't occupied at the time of the fire," said Lecci. "This is a 100-year-old building and the rapid intervention by Brookhaven Lab's firefighters and other local fire departments curtailed the damage. We are extremely grateful."
City on a Hill Community Church has served Longwood and surrounding communities for more than 30 years by providing a day care center, assistance for young mothers, youth sporting events, tutoring for students who need assistance obtaining their high school diploma, and a community food pantry where all are welcome.
Walcott, who has been a church volunteer since the 1980s, has a special connection to the Laboratory—he retired from the Lab in 2015 after working in the Chemistry Department for more than 35 years. "I enjoyed my work at the Lab and I continue to enjoy my work at the church helping local kids and parents improve their lives by offering them guidance and support," he said.
Brookhaven Lab's Deputy Director for Operations Jack Anderson added, "This is an extraordinary example of how the Lab partners with and serves our local communities. I am very proud of our fire-rescue crew for their continuous professionalism and dedication to the safety of the Lab community, as well as the safety of our neighbors."
2018-12703 | INT/EXT | Newsroom