47 High School 'Partners in Science' Visit Brookhaven, NSLS-II, and Research Library
February 1, 2018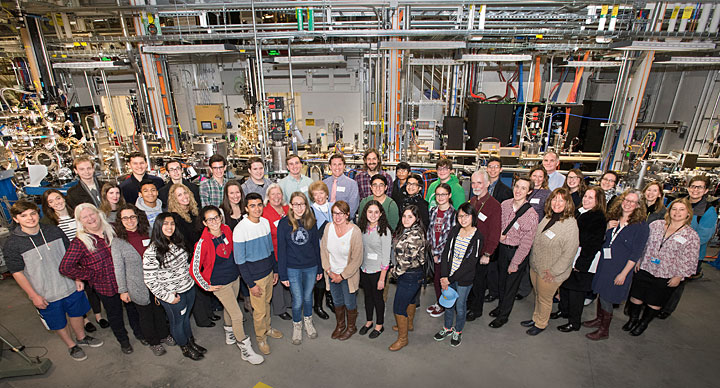 enlarge
The 28th "Partners in Science" day brought together 27 students from nine Suffolk County schools—along with their teachers and librarians—to meet with Brookhaven Lab research librarians, scientists, and subjects matter experts for a day of research, learning, and facility tours.
Brookhaven Lab's Research Library hosted 27 students, along with 18 school librarians and science teachers, from nine Suffolk County high schools—Bay Shore, Center Moriches, Miller Place, Port Jefferson, Riverhead, Rocky Point, South Country, Three Village, and West Islip—for the Lab's 28th "Partners in Science" program on Dec. 15, 2017. The Research Library co-sponsors this program with the Eastern Suffolk BOCES School Library System to encourage scholarship in science and math through the use of the Lab's Research Library electronic resource materials not readily available in school or public library collections.
In the daylong annual program, students are introduced to research activities at the Lab, meet with scientists and subject matter experts, and learn the latest techniques for conducting research.
"Our main goal is to inspire," said Research Library Manager Patricia Garvey. "Each of these students is already working on a science project in school, and through this program, they get a chance to tap into our world-class resources, with great instruction from our team of librarians, with support from Lab scientists and subject matter experts."
For this Partners in Science day, the students and faculty attended a presentation by chemist Lisa Miller at the National Synchrotron Light Source II, followed by a tour of the facility, with help from Lab staff including Cara Laasch, Alvin Acerbo, Sarah Nicholas, Lenny DeSanto, Marie Van Buren, Nancye Wright, and Tara Shiels.
At lunch in the cafeteria, participants met Tim Green, Kathy Schwager, and Jennifer Higbie of the Environmental Protection Division, Emerson Vernon of the Instrumentation Division, Lynne Ecker of the Nuclear Science & Technology Division, and Dean Hidas and Tony Kuczewski of Photon Sciences.
"From the moment the students arrive, Lab staff give them wonderful attention. Our librarians get them started with articles that specifically relate to projects they're doing in school," Garvey said. "Throughout the day, they talk with scientists and subject matter experts about the Lab and careers in science."
At the end of the day the students received a brief electronic research and resource orientation from Information Specialist Stacey Kuczewski and Sr. Information Services Assistant Christina Blas Cruz, after which they were given access to the Research Library's electronic resources so they could do their own research.
Garvey said the Research Library team is already looking forward to the 2018 Partners in Science day, and is hoping to connect with science and support staff interested in presenting to the students or joining them for the lunch.
"It's a great day, and not just inspiring for the students," she said. "Partners in Science ignites a new sense of interest in our work for the adults, as well. All the BNLers who participate tell me they come away inspired.
2018-12730 | INT/EXT | Newsroom