Elliott Levitt Wins BERA Service Award
August 12, 2009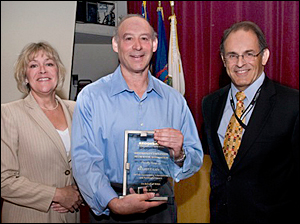 Elliott Levitt (center) with Recreation Supervisor Christine Carter and Lab Director Sam Aronson
At the annual Employee Recognition Ceremony held June 22 in Berkner Hall, 13 BNLers were honored with the Lab's highest awards: five received the Brookhaven Award, five received the Engineering & Computing Award, two received the Science & Technology Award, and one, Elliott Levitt of BNL's Internal Audit & Oversight Office, was presented the first-ever BERA Service Award, along with a check for $1,000, by Christine Carter, Recreation & Quality of Life Supervisor.
Levitt, a principal auditor, was honored with the first BERA Service Award for his long-term dedication and commitment as the volunteer treasurer of the Brookhaven Employee Recreation Association (BERA). BERA sponsors all the clubs and many events at the Lab, enabling Lab employees, visitors, guests, retirees, and their families to join in a wide variety of sports, cultural activities and trips, which countless BERA members agree are a major contribution to good morale at BNL.
BERA is a full-scale business, operated independently from BNL and Brookhaven Science Associates, the corporation that manages the Lab. The scope of BERA is similar to many small businesses, and the number of employees can reach more than 30 during the summer months. Levitt voluntarily manages BERA's payroll, accounts payable, accounts receivable, unemployment, and disability documentation. He also prepares the quarterly and yearly New York State and federal tax returns, reconciles bank accounts, and more. In addition, he is always ready to share his immensely valuable legacy knowledge of all things BERA whenever it is needed. His immeasurable contribution to the smooth running of such a vital part of the Lab community's well-being is gratefully recognized.
2009-1324 | INT/EXT | Newsroom