High School 'Partners in Science' Visit NSLS-II, Library
January 28, 2019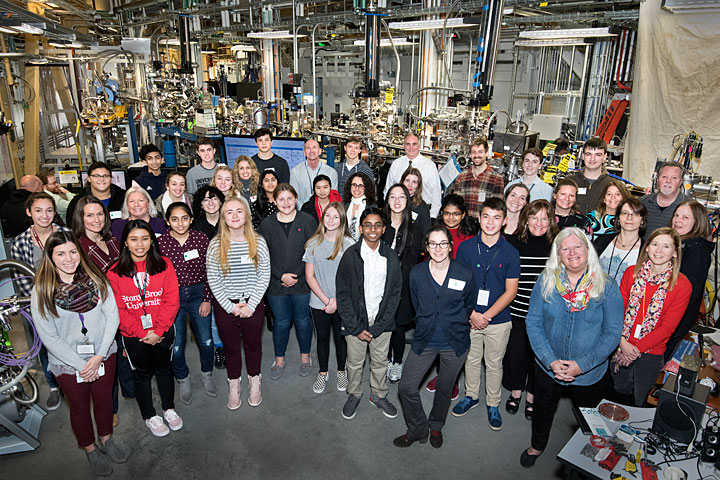 Twenty-two students from seven Suffolk County high schools visited Brookhaven Lab for the 29th annual "Partners in Science" day, meeting with Lab research librarians, scientists, and subject matter experts for a day of research, learning, and facility tours.
Brookhaven Lab's Research Library hosted 22 students, their science teachers, and school librarians from seven Suffolk County high schools—Bay Shore, Center Moriches, Hauppauge, Islip, Port Jefferson, Riverhead, and South Country—for the Lab's 29th annual "Partners in Science" program on Dec. 5, 2018. The Research Library co-sponsors this program with the Eastern Suffolk BOCES School Library System to encourage scholarship in science and math through the use of the Lab's Research Library electronic resource materials not readily available in school or public library collections.
The students and school faculty are introduced to research activities at the Lab, meet with scientists and subject matter experts, and learn the latest techniques for conducting research.
"Our goals are to show the students 'Big Science,'" said Research Library Manager Patricia Garvey. "To give them the opportunity to have conversation with our scientists, to learn how to apply critical thinking to solving tough problems, and to give them instruction and access to our Research Library's electronic resources for their science projects. This has been our 'trifecta' approach to the Partners in Science experience for the last 29 years—and it works!"
For this Partners in Science day, the students and faculty attended a presentation by chemist Lisa Miller at the National Synchrotron Light Source II (NSLS-II) about her work investigating the makeup of cells and tissues using synchrotron-based infrared and x-ray imaging. Afterward they received a tour of the facility from Miller, along with NSLS-II's Alvin Acerbo and Cara Laasch.
Over lunch, the students met with more Lab scientists and staff—including Maria Torres Arango, Kathleen Barkigia, Mike Blaskiewicz, Angie Burnett, Tim Green, Dean Hidas, Ernie Lewis, Dhananjay Ravikumar, John Shanklin, Kathy Schwager, and Xiaohong Yu—to discuss the scientists' research and career paths, and the students' science projects and overall STEM interests.
To close out the day, the students received an electronic research and resource orientation from Lab Research Library Information Specialist Stacey Kuczewski, after which they were given access to the Research Library's electronic resources so they could do their own research.
"Partners in Science ignites a new sense of interest in our work for the students, teachers, and the Lab staff who participate," Garvey said.
2019-14349 | INT/EXT | Newsroom