BNLer Barbara Royce Honored for 12 Years' Service to Thee Island INN Soup Kitchen
October 8, 2009
By Marsha Belford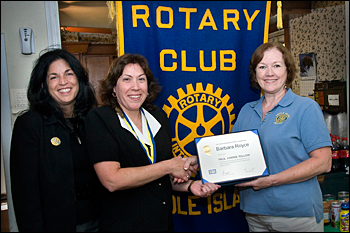 Brookhaven Lab's Barbara Royce (center), president of Thee Island INN Soup Kitchen of Middle Island, is congratulated by Margaret McHugh (right) of Astoria Federal Savings and Judy Guerin of Capitol One bank in Coram, who are immediate past president and president, respectively, of the Middle Island Rotary Club, for being named the club's 2009 Paul Harris Fellow, in recognition of Royce's 12 years of dedicated service to Thee Island INN Soup Kitchen and its guests.
What began for Barbara Royce in 1997 as an answer to the call by her employer, Brookhaven Lab, for one-time volunteers has evolved over the past dozen years into a cause to which she passionately devotes up to 20 volunteer hours per week. The inspiration for all Royce's off-the-job labor of love: Thee Island INN Soup Kitchen in Middle Island, of which she has been president since 2004. In recognition of all her good work, Royce was named by the Middle Island Rotary Club as its 2009 Paul Harris Fellow. During a ceremony at the soup kitchen, she was awarded the fellowship's commemorative certificate and medal.
Operating for nearly 20 years on Route 25 in Middle Island, Thee Island INN Soup Kitchen serves hot, nutritious meals to all who are hungry on Wednesday and Thursday evenings. In 2008, more than 6,000 meals were served to the soup kitchen's guests, who include single parents and their children, the elderly living alone, working poor, and homeless. Thee Island INN is one of 19 soup kitchens under the auspices of the Interfaith Nutrition Network (INN), a not-for-profit, volunteer-based, non-denominational social services network on Long Island that was started in 1983 and now feeds some 5,500 people per week.
Named after Rotary International founder Paul Harris, fellowships are awarded annually by Rotary Clubs to club or community members in recognition of their "Service Above Self" to the club or within the community. In honor of the fellow of the year, a Rotary Club makes a $1,000 donation to Rotary International's Paul Harris Society, which supports charitable projects around the world.
"When we looked around our Middle Island community, Barbara Royce stood out for her selfless service over all these years to Thee Island INN Soup Kitchen," stated Margaret McHugh of Astoria Federal Savings in Middle Island, who is the immediate past president of the Middle Island Rotary Club. "So she was the obvious choice as our 2009 Paul Harris Fellow."
Although Royce is not a Rotarian, "Barbara's hard work and long-term dedication to this worthy cause are perfect examples of what Rotary stands for, namely service to others, high ethical standards, and the advancement of understanding, goodwill and peace," added the current president of the Middle Island Rotary Club, Judy Guerin of Capitol One bank in Coram.
Founded in 1961 to encourage community service by local business and professional persons, the Middle Island Rotary Club not only supports Thee Island INN, but also the Island Heart food pantry and two scholarships given annually to Longwood High School students. Nowadays, the club holds its weekly lunch meeting on Thursdays at the Middle Island Pizza on Route 25.
No One Is an Island
Royce's involvement in the soup kitchen started as a result of an appeal to employees to volunteer at local charities made by Brookhaven Lab during its annual United Way campaign. As Thee Island INN president over the past five years, Royce brings the same strategic and tactical talents, skills and energy to the table that she employs as Special Assistant to BNL's Assistant Laboratory Director for Facilities & Operations.
In 2007, Royce was recognized for the more than 925 hours that she has put in on behalf of the soup kitchen's guests with a Presidential Volunteer Service Award, during a volunteer-recognition ceremony at the Lab.
"I started by helping to serve and clean up once a week on Thursdays," explained Royce. "But over time, in response to various needs, I became more and more involved." In the fall of 2004, she agreed to serve as Thee Island INN's president. "The truth is that I was 'volunteered' by the leadership committee, and I agreed to serve for just three months, but . . .."
Five years later, Royce has not walked away from the responsibilities. These include managing 100 evenings of operations annually involving five different teams of set-up staff and cooks; writing and administering grants; doing the banking and paying bills which include over $5,000 for purchased food, $3,000 for rent and $1,200 for garbage disposal; procuring food from suppliers under a federal Emergency Food & Shelter Program administered via the INN, or local grocery stories, farm stands, restaurants, and caterers; purchasing additional food and supplies; and most importantly serving meals to the guests and if need be, helping to take out the garbage after an evening's meal.
"We feed anyone who comes to the soup kitchen for a meal," explained Royce. "We treat everyone with dignity and respect, and don't ask questions about their situation. All we ask is that, while they are our guests, they act in a socially acceptable manner."
In trying to provide the soup-kitchen's guests with whatever other basic necessities they may need, Royce also runs Thee Island INN's annual fall school-supply program and its annual winter coat drive. And she collects donated clothing and toiletries for distribution to the soup kitchen's guests.
"I particularly want to help the children, as regardless of their parents' bad luck or bad choices in life, they are innocent parties and victims of circumstances," explained Royce. "I want to help level the playing field just a little for them, with a warm meal in their stomachs and a backpack full of school supplies."
In Need of New Bldg.
As Royce pointed out, she cannot do all that needs to be done for Thee Island INN guests by herself.
"Many people at BNL, in the Middle Island Rotary Club and in the community are long-time, regular, dependable supporters of the soup kitchen. They know who they are, and they are terrific," Royce declared.
She continued: "They bring in food, clothing and supplies, hand me checks, or both. They'll volunteer as a group to give the regular volunteers an evening off. And, if the soup kitchen has a particular need, they not only get the word out, but they help respond to the need with the requested food and items."
Right now however, the biggest need that Thee Island INN has is for a new home: The 200-year-old farmhouse in which the soup kitchen has been cooking and serving for nearly 20 years was recently sold, and its new owners have other plans for the building.
"We must be out by the end of October," said Royce. "We've been exploring various options, but so far, we have not found something comparable -- something we can afford with a large enough kitchen and dining space on Route 25 to meet the needs of our guests and, preferably, near a bus stop."
If the soup kitchen does not find comparable quarters before the building is closed, Royce said, "I tell our guests not to worry: Thee Island INN will not close permanently. We are not handing over the keys at our current location and walking away from our guests. With the help of those in the community, we will find space in which to operate. In the meantime, our guests can count on us as they always have."
2009-1436 | INT/EXT | Newsroom