Erik Johnson, Tenor
December 11, 2009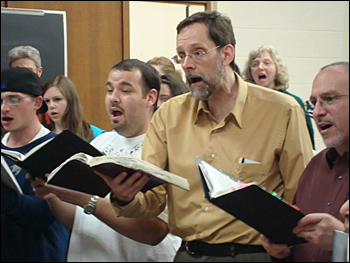 enlarge
Erik Johnson (2nd from right)
When Erik Johnson opens wide, you might expect to hear something about the Blueprint or the NSLS-II project, where he is the deputy director for the Accelerator Systems Division.
But with the holiday season in full swing, you're just as likely to hear "Hallelujah!"
Johnson sings in the tenor section of the Choral Society of the Moriches, which is rehearsing for performances of Handel's Messiah, including a sing-along concert.
"I played band instruments and piano as a youngster. But I wound up singing in high school musicals," said Johnson.
A chemical engineer by training, Johnson admits that music was tempting as a major in college. "I love it," he said, "but I knew a lot of people who were very good musicians that had a hard time making a living in music. I thought it made a better hobby than a career for me."
Johnson also notes that singing is something his girlfriend – now wife of over 20 years -- really enjoys. The two sang with the Long Island Symphonic Choral Association for many years and then branched out to other groups. "These choirs have become extended family," he said.
BNL retiree and soprano Louise Hanson also sings with the Moriches Choral Society along with Johnson and his wife Mary Riotto, a retired elementary school teacher who works with the Lab's Science Learning Center.
Asked what type of music he listens to, Johnson replied, "Basically anything. I'm drawn to choral, especially a cappella ensembles like Chanticleer."
A cappella singing is voice alone, without instrumental support. Through the years, at the NSLS annual holiday parties, Johnson and others have offered that purest way to make music. "I can sing flat with anyone," he quipped. Unlikely!
George Frideric Handel wrote the Messiah 260 years ago, in 1741. According to the score's introductory note, it was first performed in Ireland, with Handel himself conducting.
"He wrote this for a choir in Dublin that was reputed to be not on par with those of London," recounted Johnson. "Once you learn them, the choir parts are not so hard."
For the sing-along, "we're not supposed to dress in our penguin suits," he said. "We will dress festively so people can gather around us for help with the parts."
So if you're someone who sings in the shower or hums along as you walk the dog, tickle your vocal chords at the sing-along. Have a tin ear? You'll still enjoy listening.
Here's a list of the upcoming performances this season. All are free and open to the public.
Friday, December 11, 2009
7:30 p.m.
St. Jude R.C. Church
89 Overlook Drive
Mastic Beach, NY
Sunday, December 13, 2009
3:00 p.m.
Church of the Immaculate Conception
580 Main Road
Westhampton Beach, NY
SING-ALONG
Friday, December 18, 2009
7:30 p.m.
Congregational Church of Patchogue 95 East Main Street
Patchogue, New York 11772
*$15 admission charge*
Sunday, December 20, 2009
3:00 p.m.
Presbyterian Church of the Moriches
263 Main Street
Center Moriches, NY
Think you or one of your colleagues has a good story to tell? Email us! Although we can't write about everyone, we would love to hear your ideas and suggestions.
2009-1530 | INT/EXT | Newsroom