APAA/BWIS Talk and Workshop 6/6: Communicating Your Research Through Comedy
June 6, 2019
By Amber Aponte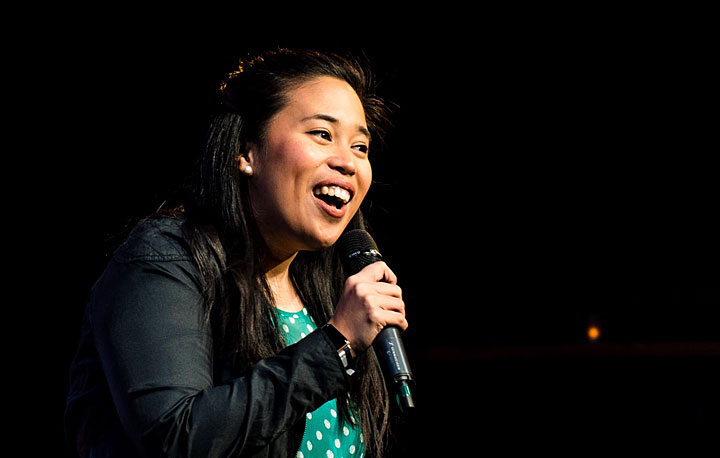 enlarge
Kyle Marian Viterbo
Kyle Marian Viterbo, former physical anthropologist and now a science communicator, comedian, and social media manager, will give a talk on "The Science and Anthropology of Comedy: Lessons for Academics," or why the art of comedy is a powerful tool for connecting with people, at Brookhaven National Laboratory, in the Physics Large Seminar Room (Bldg. 510), Thursday, June 6, at noon.
Add this event to your calendar.
The lecture is free and open to the public. No registration is necessary. Visitors age 16 and over must bring a photo ID.
Viterbo will also share strategic lessons from a comedian's work and how academics and researchers can apply these principles in a workshop titled "Translate Your Research Into Comedy." The workshop will take place in Blgg. 745, Rm. 156, at 2:30 p.m. Registration is required for the workshop. Contact Susan Wong at sge@bnl.gov.
Add this event to your calendar.
These events are sponsored by the Asian Pacific American Association (APAA) and Brookhaven Women in Science (BWIS) in celebration of Asian Pacific American Heritage Month.
Trained as a physical anthropologist studying evolution, Kyle Marian Viterbo now dedicates herself to training other scientists to communicate their science more effectively, particularly through smart, mindful comedy.
In addition to a Master's Degree in science communication and public engagement from the University of Edinburgh, Viterbo is also an Alan Alda Center for Communicating Science and UK Bright Club Comedy alum, has done improv and writing training with the Upright Citizens' Brigade, and now produces the monthly standup show "The Symposium: Academic Stand-Up," where scientists she's trained have a chance to present their work.
If there's a multimedia platform, Kyle's likely used it: from broadcast journalism (she served as writer, producer, photographer, and editor for Stony Brook University's School of Journalism and the University of Edinburgh's Science Magazine and Podcast) to blogging, podcasts, talk radio, and public lectures.
2019-15601 | INT/EXT | Newsroom