Fundraising Results for United Way and Haiti Relief Campaigns
February 10, 2010
This year's United Way campaign elicited overwhelming generosity from Brookhaven employees. The campaign resulted in a whopping $172,530 in donations — a 5.5 percent increase over last year — for the charity that provides education, income and health opportunities to those in need in local communities.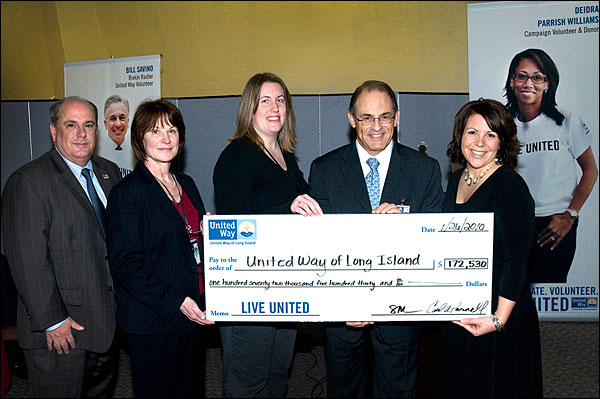 enlarge
United Way representatives receive a $172,530 check at an employee thank you ceremony following three months of fundraising by Brookhaven employees. From left, Michael Cooney, United Way; Carol Parnell, BNL United Way Campaign Chair; Sarah Mahler, BNL United Way Campaign Co-chair; Sam Aronson, BNL Director; and Dawn Loccisano, United Way.
The holiday auction was the highest grossing special events fundraising activity. Employees bid on department-sponsored gift baskets in a silent auction, raising $11,898 of the total $17,192 in special events proceeds. Also included at the holiday auction were a used book sale, a yard sale, jewelry and accessory sale, raffles for two round-trip tickets on Southwest Airlines and a jeweler-donated gold bracelet.
Other activities that contributed to the special events proceeds included the Building 400 bake sale, NSLS's bake sale and sandwich day, the supervisor dunk tank, the Asian tea house and Physics Department-sponsored Café Physique.
In addition to the special fundraising efforts, individual pledge donations were collected and also totaled more than the previous year, with increased leadership donations (those donating over $500) and employee and retiree gifts.
Another way employees contributed was through the volunteer program. Brookhaven Science Associates (BSA) offered a large donation in exchange for employees volunteering time at a charity of their choice. A total of 185 employees took up the challenge and contributed over 1,200 hours, earning United Way the maximum $10,000 donation.
A short time after the United Way Campaign closed, news of a major earthquake in Haiti spurred BNL's United Way campaign captains back into action. They set up donation tables in Building 400 and Berkner Hall and collected an additional $4,450 for Haiti relief organizations in one day.
The funds were divided between five organizations: the American Red Cross, AmeriCares, Clinton-Bush Haiti Fund, Doctors without Borders, and the United Nations Children's Fund (UNICEF), according to the selections employees made at the donation tables.
Additionally, "Change for Haiti" collection jars were set out next to cash registers in Berkner Hall for one week, which accumulated an extra $340 for AmeriCares.
For individual United Way fundraising event totals visit the 2009 United Way Campaign website.
2010-1577 | INT/EXT | Newsroom