Meet Na Li
February 1, 2010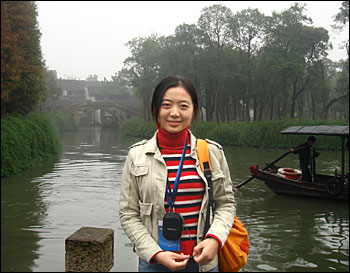 Na Li is a Ph.D. candidate at Huazhong Normal University in Wuhan, China. But for nearly three years, she has been living on Long Island to work and conduct research at Brookhaven National Laboratory's Relativistic Heavy Ion Collider (RHIC). A winner of the 2009 Gertrude Scharff-Goldhaber Prize for women graduate students in physics, Li first learned of RHIC — well, she can explain it:
How did you first learn of RHIC?
I learned about RHIC as an undergraduate student in China. I attended lectures about heavy ion collisions and some of the results were from RHIC. Now, I am working toward a Ph.D. in physics at Huazhong Normal University and its Institute of Particle Physics is a collaborating member of the STAR Experiment at RHIC.
What are you trying to achieve there?
I study collective flow — how particles move together in different directions after the heavy ions have collided. This can help us to understand the different features of the states of matter that are produced during collisions.
Why work at RHIC?
RHIC is one of the largest heavy ion colliders in the world. We have mature techniques and a productive run every year. We also have groups that cooperate well and I'm interested in the aspects of physics studied there.
Have you made any discoveries at RHIC?
This is difficult to explain but previous studies have shown that "v2," a measurement relating to particles called mesons and baryons, converges if scaled by their corresponding number of constituent quarks. We have found that this scaling breaks at high momentum range, and this may be related to different mechanisms for particle production.
Who else do you work with?
I work with a group of more than 10 people who study collectivity at the STAR experiment, and I also discuss results in another physics working group.
What was your favorite "RHIC moment?"
I really enjoy our regular meeting every week. We report on our work and discuss results within the group. The meetings are full of questions, comments, and arguments — very challenging and interesting.
Do you have any other special talents/interests?
I like reading different kinds of books — novels, history or science fiction -- and sometimes going out to hike with my friends.
Is there anything else you would like to add?
I would like to thank my supervisor, Nu Xu, for offering me this opportunity to study at RHIC, and also the people who gave lots of help during my RHIC time.
Think you or one of your colleagues has a good story to tell? Email us! Although we can't write about everyone, we would love to hear your ideas and suggestions.
2010-1601 | INT/EXT | Newsroom