BNL Hosts One Finalist, Seven Semifinalists in 2010 Intel Science Contest
February 25, 2010
Every year, 300 high school students are recognized as semifinalists in the Intel Science Talent Search for their outstanding scientific research. This year, seven of those semifinalists and one finalist completed their projects with the help of mentors from the U.S. Department of Energy's Brookhaven National Laboratory (BNL) and Stony Brook University (SBU), and access to the cutting-edge research facilities at BNL.
"Long Island's abundance of talented high school students who are exceptional in the sciences makes Brookhaven National Laboratory a focal point for excellence when it comes to research projects," said Ken White, manager of BNL's Office of Educational Programs (OEP). "Eight out of 300 across the country exemplifies this."
So, congratulations to the seven semifinalists and their mentors — and best of luck to finalist Ruoyi Jiang at the Intel Science Talent Institute this March!
Daniel Bornstein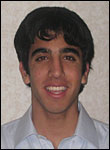 Daniel Bornstein
Daniel Bornstein was selected as an Intel semifinalist in part for his work, titled An Analysis of Photosynthesis in Poplar Inoculated with Endophytic Bacteria. A senior at John F. Kennedy High School and a resident of Merrick, Bornstein was mentored by Alistair Rogers of Brookhaven Lab's Environmental Sciences Department during the summer of 2009. At BNL, Bornstein investigated how inoculating poplar trees with specific strains of bacteria can affect photosynthesis to improve the viability of poplar as an alternative fuel. His project was part of a BNL-Laboratory Directed Research and Development project led by Niels van der Lelie.
"Daniel is an exceptional young man, who combined graduate-level thinking with high school enthusiasm," said Rogers.
Bornstein plans to attend college this fall to study environmental science and international relations.
John Dodaro
John Dodaro
John Dodaro's work, titled Search and Identification of Cosmic Rays in Radar Echo, earned him a spot as an Intel semifinalist. A senior at Smithtown High East and resident of Saint James, Dodaro has spent his past two summer vacations at Brookhaven Lab with mentor Helio Takai of the Lab's Physics Department. He wrote software through which to filter large amounts of data to identify radar signals from ultra-high energy cosmic rays.
"John is exceptionally mature, responsible, and also very creative in his thinking," said Takai. "I might be biased because I was his mentor, but his work really was terrific."
Dodaro has been accepted to the University of Chicago and Columbia University, but has not yet decided which school he will attend this fall. He plans to study physics and applied mathematics.
Ruoyi Jiang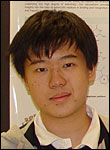 Ruoyi Jian
Ruoyi Jiang, a senior at Ward Melville High School and resident of East Setauket, has been named an Intel finalist for his work Targeting Loop Dynamics in βI/βIII Isotype Tubulin: The Application of in silico Techniques in Combating Chemotherapy Drug Resistance. Jiang worked with mentor Carlos Simmerling, a professor of chemistry at Stony Brook University (SBU) and guest scientist at Brookhaven Lab, and the Academy of Applied Science sponsored Jiang's research. Using the New York Blue supercomputer, which is owned by SBU and operated by Brookhaven Lab, Jiang evaluated drugs that prevent cancer cells from developing resistance to chemotherapy.
"I've never worked with a high school student who was able to incorporate aspects ranging from quantum physics to biology in their project," said Simmerling. "Ruoyi is very broadly talented."
In March, Jiang will compete for more than $630,000 in awards among 39 other Intel Science Talent Search finalists. Jiang has already been named the individual Grand Prize winner in the 2009 Siemens Competition in Math, Science & Technology.
Daniel Ryan Katz
Daniel Ryan Katz of John L. Miller Great Neck North High School was chosen as an Intel semifinalist for his project, Using the Transport Coefficient to Probe the Coupling of the Quark Gluon Plasma Produced in Au + Au Collisions at the Relativistic Heavy Ion Collider. During the summer of 2009 and under the mentorship of Roy Lacey, a professor of chemistry at Stony Brook University and collaborator in the PHENIX experiment at Brookhaven Lab's Relativistic Heavy Ion Collider (RHIC), Katz analyzed PHENIX data to estimate how effectively plasma stops quarks and gluons from dispersing after gold ions collide at RHIC.
"Daniel has a good scientific background and learns quickly," said Lacey. "He worked diligently and systematically, and quickly developed a good understanding of how his specific project fits into the broader set of scientific questions being pursued at RHIC."
Katz plans to major in physics and also hopes to study business or law when he attends college this fall.
David Lawrence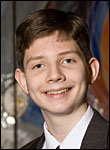 David Lawrence
A senior at Comsewogue High School, David Lawrence was named an Intel semifinalist for his work, titled A Simple Method to Characterize Charge Diffusion in CCDs Using X-Ray Illumination. Lawrence began working with mentor Peter Takacs of Brookhaven Lab's Instrumentation Division in the summer of 2008. He has also been developing programs in the PYTHON computer language for controlling a machine that measures the surface profile of silicon sensors being fabricated by the Instrumentation Division for the camera of the Large Synoptic Survey Telescope (LSST.)
"David is a very quiet, modest, unassuming guy, and it has been a pleasure working with him," said Takacs. "His method is fast and quantitative and it allows us to extract much more useful information from camera calibration images than previously possible."
This fall, Lawrence will attend Massachusetts Institute of Technology to study mathematics or computer science.
Andrew Li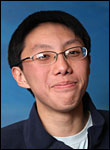 Andrew Li
Andrew Li of Ward Melville High School was selected as a semifinalist for his project, titled An Estimate of the Viscosity of the Quark-Gluon Plasma via Anisotropic Flow Measured in Au + Au Collisions at the Relativistic Heavy Ion Collider. Li was also mentored by Stony Brook University professor and PHENIX collaborator Roy Lacey during the summer of 2009. While working with Lacey, Li analyzed and used data from the PHENIX detector at RHIC in conjunction with a model to estimate the viscosity of particles emitted in the gold ion collisions.
"Andrew quickly learned the basics of nuclear science, mastered the software relevant to his data analysis project, and over time, worked essentially independently to generate results and develop a good understanding of their meaning," said Lacey.
Li has been accepted to Stony Brook University and is waiting to hear back from other schools. He plans to study physics.
Bernard Liu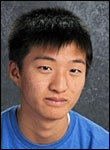 Bernard Liu
Manhasset High School senior Bernard Liu was selected as an Intel semifinalist for his project, A Possible New Approach to Positron Emission Tomography Using Time of Flight From Multi-Gap Resistive Plate Chambers to Replace or Enhance the Use of Inorganic Crystals. Lijuan Ruan of Brookhaven Lab's Physics Department has mentored Liu since the summer of 2009. Since then, Liu has assisted Ruan in developing prototypes of new, more efficient PET scanners collaborating with the University of Science and Technology of China and Tsinghua University in China.
"Bernard is quite creative and asks very good questions," said Ruan. "I hope to continue working with Bernard after his official programs are completed."
Liu has been accepted to the University of Chicago but has not decided where he will study. He plans to major in industrial engineering or physics.
Rashmi Rao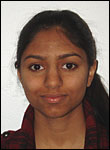 Rashmi Rao
Rashmi Rao, a senior at Ward Melville High and resident of Stony Brook, was named an Intel semifinalist for her project, titled Pattern Classification of fMRI Data for Understanding Brain Activity in Drug Users. Rao was mentored by Jean Honorio and Dimitris Samaras from Stony Brook University's Computer Science Department, and Rita Goldstein of Brookhaven Lab's Medical Department. Rao helped with experiments showing that the brain of a cocaine-addicted person functions significantly different from a non-drug-user, when performing selected cognitive and emotional tasks. Using Functional Magnetic Resonance Imaging, a computerized method is being developed to predict whether or not a person is addicted to cocaine.
"Rashmi is hardworking, determined, motivated, and persistent," said Goldstein. "We hope to continue and optimize what she has worked on to apply it in clinical studies in the future."
This fall, Rao plans to study medicine and computer science at college.
2010-1604 | INT/EXT | Newsroom