Stony Brook University Students Haoyue Guo and Chun-Hao Pan Win 15th Annual Mow Shiah Lin Scholarship
September 25, 2019
Haoyue Guo and Chun-Hao Pan, doctoral students at Stony Brook University (SBU), are the recipients of the 15th annual Mow Shiah Lin Scholarship. The Asian Pacific American Association (APAA) at the U.S. Department of Energy's Brookhaven National Laboratory funds the scholarship, which consists of $1,500 and a plaque, in honor of the late Brookhaven Lab scientist for whom it is named.
Haoyue Guo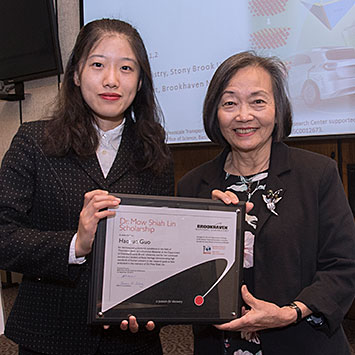 enlarge
Mow Lin Scholarship winner Haoyue Guo with Beth Lin
Haoyue Guo earned her undergraduate degree at Beihang University and is pursuing her Ph.D. in chemistry at SBU. Guo is currently working with Brookhaven Lab and SBU scientists Ping Liu and Esther Takeuchi studying electrochemical processes, including mechanisms and discharge processes of lithium-ion batteries that may lead to improved energy storage.
"Receiving the Mow Lin scholarship will help me realize my dream to become a scientist and continue studying new strategies for energy storage and the importance of computational methods and modeling in research," said Guo.
Guo is a two-time recipient of the Outstanding Oral Presentation Award at Brookhaven's Early Career Research Symposium. "I was not a confident speaker, so I attended scientific meetings and participated in small groups to learn the techniques of public speaking. I realized that being able to convey concise messages about the research I was doing was very important."
Chun-Hao Pan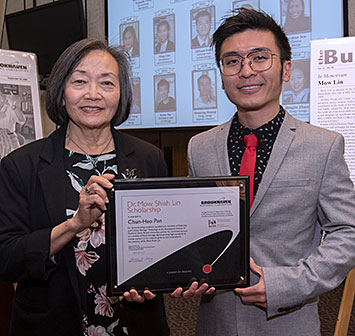 enlarge
Mow Lin Scholarship winner Chun-Hao Pan with Beth Lin
Chun-Hao Pan earned his bachelor's degree and masters at National Chiao University, where he was a recipient of outstanding academic achievement awards for both degrees. Pan is now pursuing his Ph.D. at SBU working with his advisors, Kenneth Shroyer and Luisa-Escobar-Hoyo.
"I am pursuing my passion for helping and serving society by researching developing novel therapeutics for patients with pancreatic cancer," said Pan. "My aim is to advance clinical knowledge that can ultimately enhance the quality of life and survival of cancer patients." His research reveals a therapeutic vulnerability that could be targeted to overcome chemoresistance in pancreatic cancer.
"I am honored to receive the Mow Lin Scholarship, as I am inspired by his contributions to science and his benevolence," Pan said. This will keep reminding me that as a scientist, like Mow Lin, our goal is to do better science and build a better world."
Pan also served at the chief director of planning for the Taiwanese Graduate Student Association at SBU, where he is currently an active mentor. He is also the senator of the Graduate Student Organization, representing his Ph.D. program at SBU.
About the Scholarship
Mow Shiah Lin began his career at Brookhaven Lab in 1975 as a postdoctoral fellow and advanced to co-lead a research team working with an environmental remediation company to use selected bacteria to convert toxic oil wastes, such as used motor oils, into useful products. In 2001, Lin shared an R&D 100 Award, given by R&D Magazine for the top 100 technological achievements of the year, for developing a technology to recover silica from geothermal brine. Lin died suddenly due to a brain aneurysm at the height of his career in 2003, and his coworkers, friends, and family contributed funds to establish the scholarship in his name.
In remembrance of the manner in which Lin began his career, the scholarship is granted annually to a student of Asian heritage with a U.S. student visa who is matriculated at an accredited institution of higher education on Long Island (including Brooklyn and Queens) working toward a graduate degree in environmental and energy technology, biology, or chemistry.
The research facilities at Brookhaven Lab are funded by the DOE Office of Science.
Brookhaven National Laboratory is supported by the Office of Science of the U.S. Department of Energy. The Office of Science is the single largest supporter of basic research in the physical sciences in the United States, and is working to address some of the most pressing challenges of our time. For more information, please visit science.energy.gov.
Follow @BrookhavenLab on Twitter or find us on Facebook.
2019-16809 | INT/EXT | Newsroom