Discovery Park Industry Day: Video Replay and More
October 2, 2020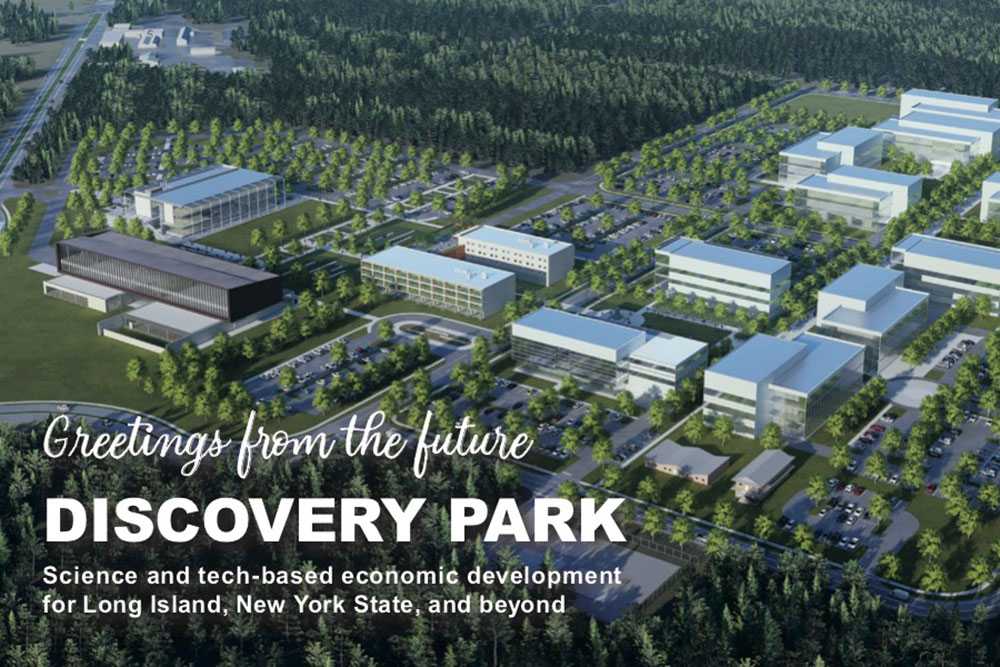 The U.S. Department of Energy (DOE) and its Brookhaven National Laboratory recently welcomed the local development community to discuss emerging opportunities at the future Discovery Park.
Discovery Park is a new vision for the gateway to Brookhaven Lab—the only multidisciplinary national laboratory in the Northeast and a major destination along Long Island's Research Corridor.
Developers, collaborators, and entrepreneurs were invited to meet with key members of the DOE and Brookhaven teams at Discovery Park Industry Day the morning of Sept. 24. Thirty attendees joined in person under an open air tent, practicing social distancing, wearing face coverings, and following other COVID-related safety precautions. Thirty-five others participated online. They learned about plans for Discovery Park and were encouraged to provide feedback to help refine those plans.
Brookhaven Lab Director Doon Gibbs welcomed participants to the Industry Day event. Joining him were Suffolk County Executive Steve Bellone, Long Island Association (LIA) President & CEO Kevin Law, Empire State Development Regional Director Cara Longworth, and Brookhaven Town Supervisor Ed Romaine.
Presenters from DOE included Brookhaven Site Office Manager Robert Gordon and Real Estate Contracting Officer Susan Bourgart. Presenters from Brookhaven Lab included Director for Campus Development Marty Fallier, Deputy Director for Science & Technology Robert Tribble, and Deputy Director for Operations Jack Anderson. Brookhaven Lab's Director for Stakeholder & Community Relations David Manning emceed the event.
In-person and online participants met with other subject-matter experts during breakout sessions that afternoon. In-person attendees also toured the National Synchrotron Light Source II, a DOE Office of Science User Facility at Brookhaven Lab.
A video replay containing the main presentations and a question-and-answer session is available below. Presenters' slides are also available (PDF).
Science and Technology-based Development for Long Island and Beyond
Discovery Park is envisioned as a flexible platform to advance science and technology-based economic development for Long Island, New York State, and beyond. The concept includes creating more than 600,000 gross square feet of facilities on 40–60 acres in the Lab's current apartment area.
Planned facilities include privately funded and operated:
Extended-stay housing available to visiting researchers and guests
Public science education facilities
Technology partnership facilities
Food and other services
Discovery Park and Brookhaven Lab are accessible by road, rail, and air. The site is located just north of the Long Island Expressway's Exit 68, near a potential new Brookhaven Lab-Yaphank train station for the Long Island Rail Road, the Ronkonkoma Hub, and several airports. New residential developments as well as beaches, vineyards, and shopping are only a short drive away.
More information about Discovery Park is available at discoverypark.bnl.gov.
2020-17478 | INT/EXT | Newsroom